Twitter Blows Up Over Sexual Misconduct Claims Against NYT's Glenn Thrush: 'So Disturbing and Sick'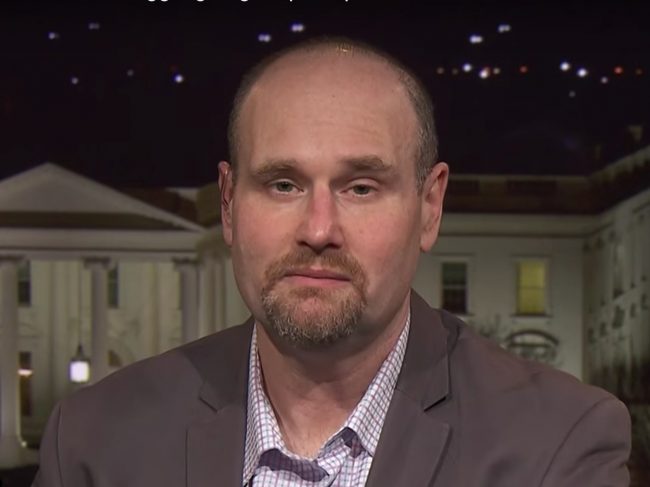 With the possible exception of his colleague Maggie Haberman, New York Times reporter Glenn Thrush is the biggest star of all the print journalists on the White House beat. He was even lampooned on Saturday Night Live — as a regular target for Melissa McCarthy's iconic Sean Spicer. And he and Haberman have frequently teamed up to produce scoops which have rocked the Beltway.
But now, Thrush finds himself on the wrong end of a blockbuster report. Vox, on Monday, published multiple accounts of women alleging that Thrush made unwanted advances toward them — including a first-person claim from the story's author, Laura McGann.
The Times reacted swiftly, suspending Thrush pending an investigation into the allegations. Twitter reacted even more swiftly, and furiously. Here's a sampling of the chatter from journalists and others:
Made it 1.5 hours before being called the c word in an email.

— Laura McGann (@lkmcgann) November 20, 2017
to borrow from @rtraister, i wonder thrush's treatment of women influenced his reporting on the 2016 election?

— Jamelle Bouie (@jbouie) November 20, 2017
ffs, this story. this town. these men. these brave women. https://t.co/yM2B4rvyWl

— Kate Bennett (@KateBennett_DC) November 20, 2017
rehab, but for misogynist entitlement, I guess https://t.co/HhER6vHy40

— Kelly Stout (@scoutstout) November 20, 2017
This statement that Thrush released in response to this story (https://t.co/ISUf94Owu1) is very bad. https://t.co/zCz7Y7YsxV

— Judd Legum (@JuddLegum) November 20, 2017
Ah one of the many joys of being a woman journalist https://t.co/Z4lpSD0PYo

— eve peyser (@evepeyser) November 20, 2017
I'm just glad Charles Manson didn't live to see thishttps://t.co/p5ps5Du2eT

— David Burge (@iowahawkblog) November 20, 2017
Every detail of this story is just so disturbing and sick https://t.co/HS7HlHjRua

— Taylor Lorenz (@TaylorLorenz) November 20, 2017
lately i wake up and realize i'm going to be angry the rest of the day, and i'm never wrong https://t.co/hiLGY6D4cO

— Sarah Jones (@onesarahjones) November 20, 2017
Wow this Thrush story is… very bad. https://t.co/EadBYGO93n

— Emily C. Singer (@CahnEmily) November 20, 2017
Positioning yourself as a champion and advocate for women in your field to cover up abusive behavior takes some real fucking planning. Sure hope rehab fixes that too! https://t.co/4i7d4eDeg8

— Anna Merlan (@annamerlan) November 20, 2017
This, from the Vox piece on Glenn Thrush, reflects the grand, unspoken tragedy of the #MeToo movement: The uncountable # of women who have been shamed out of their industries. We'll never know how many female storytellers have had their potential for greatness kneecapped by fear. pic.twitter.com/FltUR3WTsY

— Lauren Duca (@laurenduca) November 20, 2017
[image via screengrab]
——
Follow Joe DePaolo (@joe_depaolo) on Twitter
Have a tip we should know? tips@mediaite.com
Joe DePaolo - Senior Editor