Twitter Couldn't Get Enough of the Jacked Referee in the National Title Game
The unquestioned Internet star to emerge from last night's National Championship game between Clemson and Alabama was Big 12 Conference referee Mike DeFee.
Why? Well, see for yourself.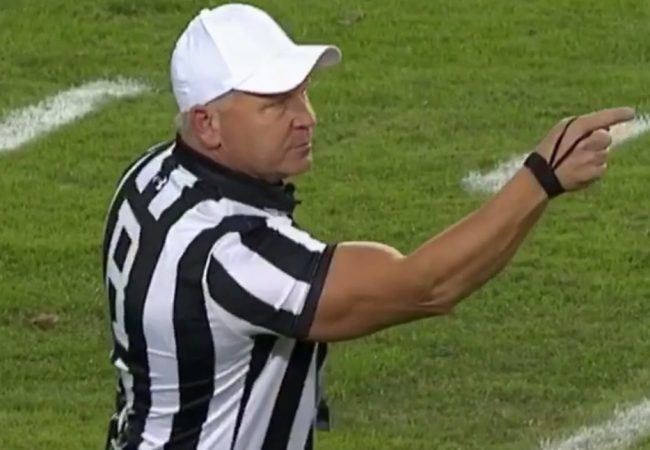 Yup. The guy is jacked.
Twitter couldn't get enough of him. Check out some of the reactions — complete was many comparisons to similarly jacked NFL ref Ed Hochuli.
Ed Hochuli has some work to do this off season. The #nationalchampionship ref puts him to shame! #GunShow pic.twitter.com/Ljqq1bFpGk

— Andy Masur (@Andy_Masur1) January 10, 2017
Workout schedule:
Sunday: Biceps
Monday: Triceps
Tuesday: Biceps
Wednesday: Biceps
Thursday: Biceps
Friday: Triceps
Saturday: Biceps pic.twitter.com/zKTZdbJyLo

— Ref Armstrong (@PlayoffRef) January 10, 2017
"That was the most yoked ref in the history of football."

– Greeny pic.twitter.com/eDIO2cEIWt

— Mike & Mike (@MikeAndMike) January 10, 2017
jacked ref takes NO. DAYS. OFF. #nationalchampionship #Clemson #Alabama pic.twitter.com/kQrpuCExSg

— Michael Swander (@MichaelSwander) January 10, 2017
That ref's been blasting his biceps and triceps for weeks, damn right he's gonna get his air time

— Jim Rome (@jimrome) January 10, 2017
Muscle Ref Mike Defee throws his flag into the core of the earth. #nationalchampionship pic.twitter.com/xlwEcZIBrl

— Matthew Kick (@MatthewKick) January 10, 2017
Ball appears to be on ground on replay. No idea if Biceps Ref will overturn it or just go outside and overturn an Audi.

— Cecil Hurt (@CecilHurt) January 10, 2017
Instead of the Pro Bowl, let's just have a boxing match between Ed Hochuli and this swoll ref.

— Robert Mays (@robertmays) January 10, 2017
That ref tonight was STUPID jacked.

— Discount Chris Pratt (@thelollcano) January 10, 2017
I'm love the jacked ref. Calling him PED Hochuli. #NationalChampionship

— Sarah Tiana (@sarahtiana) January 10, 2017
New Years resolution: be as jacked as this ref

— Big Ben (@Big_Harg72) January 10, 2017
Why is this ref more jacked than half the players on the field

— Kevin Craig (@TheKCraig) January 10, 2017
'That ref's arms are pretty yoked' -Ed Hochuli while doing hammer curls in a room full of mirrors

— danny rouhier (@funnydanny) January 10, 2017
This ref is just calling encroachment so he can flex the guns #Yoked

— Cole Wernecke (@ColeWernecke) January 10, 2017
[image via screengrab]
–
Follow Joe DePaolo (@joe_depaolo) on Twitter
Have a tip we should know? tips@mediaite.com
Joe DePaolo - Senior Editor