With Potential Eyes on 2020, Booker Set to Testify Against Sessions For First Time in US History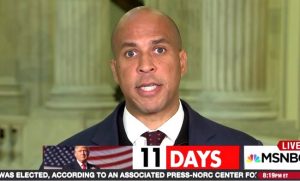 Despite the fact that President-elect Donald Trump has not yet taken the oath of office, speculation has run rampant about who the Democrats will field to (presumably) challenge Trump in 2020. While former candidates have been frequently cited — like Bernie Sanders and Joe Biden — it's a younger member of the progressive pack who many feel could be the standard-bearer in a few years' time: New Jersey Senator Cory Booker, the former mayor of Newark who spoke at the DNC this summer and was a fervent supporter of Hillary Clinton's on the campaign trail.
In fact, there is a bit of substance to the #Booker2020 claims that exceeds simply just imaginative conjecture; many were quick to point out last week that Booker made time for a local news interview on WMUR in Manchester, NH to discuss the Republican majority in Congress. Last summer, the New Jersey pol even made it a point to tell NH1 News that the Granite State was, "a place that I've now fallen in love with," adding to fuel to the fire that he has presidential ambitions in his future.
And this week may end up proving to be another stop on that journey for the White House, should Booker accept the challenge down the road. Booker is set to testify before the Judiciary Committee against Donald Trump's choice for Attorney General, Alabama Senator Jeff Sessions, marking the first time in American history that a sitting Senator will openly testify against a Senate colleague up for a Cabinet position.
Booker admitted Monday, "I'm breaking a pretty long Senate tradition," by putting up a fight against Sessions, whose long career as a public servant has been questioned with claims of racial impropriety and workplace discrimination. Booker said of the likely AG, "We've seen Jeff Sessions — that's Senator Jeff Sessions — consistently voting against or speaking out against key ideals of the Voting Rights Act, taking measures to try to block criminal justice reform."
"He has a posture and a positioning that I think represent a real danger to our country," Booker said to MSNBC's Chris Hayes Monday.
Sessions is, of course, just the first of Trump's picks expected to face Senate grilling, and it's not the first time Sessions has found himself in similar circumstances. In 1986, the Senate Judiciary Committee axed Sessions' nomination to a District Court seat after his confirmation hearings were tinged with allegations of racism. Sessions allegedly called his longtime African American assistant Thomas Figures "boy," and once allegedly agreed with an assessment that a white lawyer was "a disgrace to his race" for representing black clients.
He responded at the time, "'Boy' is a reprehensible term to use to describe a black man in the South. Because of the history of that term, I have never used the word 'boy' to describe a black, nor would I tolerate it in my office." Sessions would go on to use the botched nomination as a springboard to becoming state Attorney general before running for Senate.
Up for debate during Sessions' confirmation hearing this week will be the factor and acceptance of systemic discrimination. NBC News obtained prepared remarks for the Attorney General hopeful that read in part that Sessions understands, "the horrendous impact that relentless and systemic discrimination and the denial of voting rights has had on our African-American brothers and sisters."
But no amount of prepared remarks are likely to convince the 47-year-old Booker that Sessions has his heart in the right place necessary for the role of our nation's top prosecutor. "The Attorney General is responsible for ensuring the fair administration of justice, and based on his record, I lack confidence that Senator Sessions can honor this duty," Booker said.
And for a Democratic party still in turmoil and disarray after a devastating loss in November — one that will likely leave the party picking up the pieces long after Trump moves into his new DC digs next week — Booker's historic push against Sessions may be the start of a long road to redemption. Speculation about 2020 is, at this point, a futile exercise in silliness that those of us in political media love to have. But that doesn't mean that a strong showing of political theater this week wouldn't serve Booker's ambitions well down the line, should he just so happen to throw his hat into the 2020 ring.
Guess we'll have to see if the New Jersey Senator takes any surprise trips to Nevada, Ohio, Wisconsin, or Iowa, too.
—
J.D. Durkin (@jivedurkey) is an editorial producer and columnist at Mediaite.
This is an opinion piece. The views expressed in this article are those of just the author.