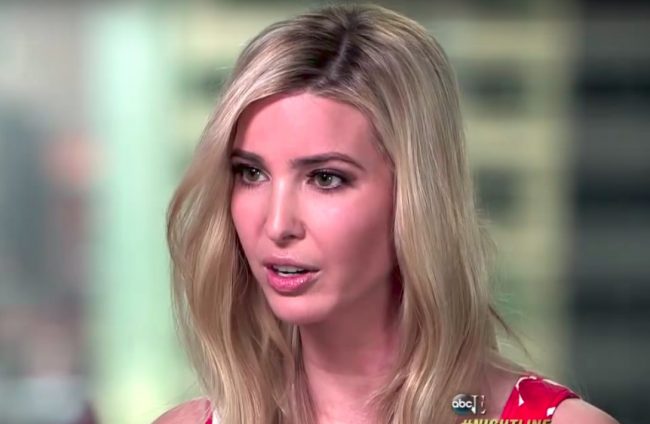 Ever trying to shake the "complicit" label, first daughter, Ivanka Trump, took to Twitter Thursday evening to issue a pair of tweets to express her support for LGBTQ rights.
The tweets coincided with the start of Gay Pride month in the United States.
Logging back on after Shavuot, wishing everyone a joyful #Pride2017. This month we celebrate and honor the #LGBTQ community.

— Ivanka Trump (@IvankaTrump) June 2, 2017
I am proud to support my LGBTQ friends and the LGBTQ Americans who have made immense contributions to our society and economy.

— Ivanka Trump (@IvankaTrump) June 2, 2017
Despite his support for marriage equality, LGBTQ Americans are generally not counted as members of the Donald Trump coalition. LGBTQ Americans voted overwhelmingly against him in the 2016 general election.
On Twitter, the younger Trump was raked over the coals by those who took exception to her sweet words. The general theme was that the actions of the administration spoke louder.
how convenient that you didn't tag @VP. Oh, and girl fuck you and your incompetent father. Happy pride bitch.

— Kellee Terrell (@kelleent) June 2, 2017
you aren't our friend.

— Tim Federle (@TimFederle) June 2, 2017
What the actual fuck is this? You're doing as much for us as you did for the environment! https://t.co/qXVMZYV3Cd

— Amy Siskind (@Amy_Siskind) June 2, 2017
Dear Ivanka,

Please go support the Chinese labor activists jailed for inspecting your crummy sweat shops instead. Regards.

LGBTQ America

— Jesper Weigner (@jespernweigner) June 2, 2017
Hi Ivanka, your father rolled back protections for transgender students. https://t.co/eTurrss8re

— Matt Ortega (@MattOrtega) June 2, 2017
Ivanka tweets about LGBT pride month despite lack of WH proclaiming this month as pride month. https://t.co/mf7JHllNQl

— Steve Kopack (@SteveKopack) June 2, 2017
I'd thank you for your tweet but I'm kind of busy getting deprogrammed in conversion therapy.

— Tracy E. Gilchrist (@TracyEGilchrist) June 2, 2017
Have a tip we should know? [email protected]