Twitter Gets Snarky After Slate Somehow Confuses Ben Carson With James Mattis
Twitter got its snark on Thursday when a tweet from Slate about Trump's pick for HUD Secretary Ben Carson was posted to social media with a picture of Gen. James Mattis instead.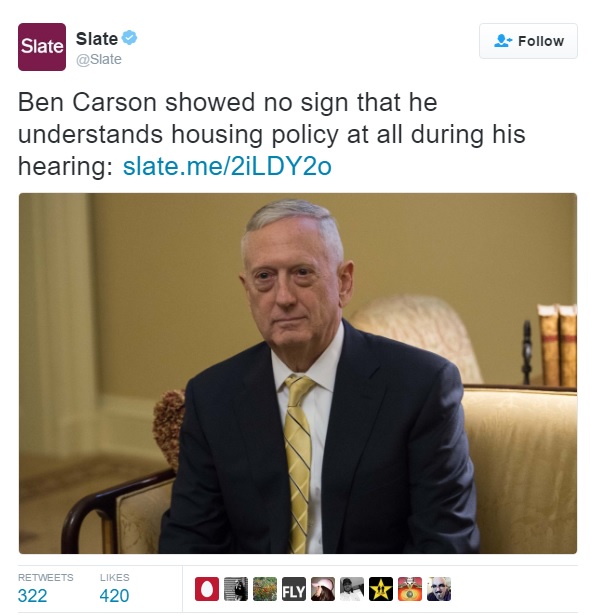 Carson does not particularly resemble Mattis. In a follow-up tweet, Slate issued a correction and explained that the piece they linked to was a live blog covering both men.
Correction: This tweet corresponds to an update in our confirmation hearings live blog. The man in the photo is James Mattis, not Ben Carson

— Slate (@Slate) January 12, 2017
Still, social media had fun with the mix up.
.@Slate wow, Dr. Carson dressed up as Gen. Mattis. Talk about culture appropriation.

— Chuma Achike (@Edwardachike) January 12, 2017
Hi, Ben Carson! https://t.co/embL2ubv2f

— Terrell J. Starr (@Russian_Starr) January 12, 2017
Man, Trump's America has already turned Ben Carson into a militant old white guy https://t.co/U2Lgd2Fsx8

— Benny (@bennyjohnson) January 12, 2017
@Slate you've reached peak Slate. Mattis is not Carson.

— Robby Starbuck (@robbystarbuck) January 12, 2017
And at least those criticizing him as uninformed can tell the difference between Ben Carson and Jim Mattis oh wait apparently they can't https://t.co/iEhcspfRam

— Seth Mandel (@SethAMandel) January 12, 2017
Slate shows no sign it understands who James Mattis is https://t.co/20vGgf5kio

— Dave Brown (@dave_brown24) January 12, 2017
@Slate It might be bring your toddler to work day at Slate .

— HeisenbergHattie (@HBergHattie) January 12, 2017
tfw you've served your nation for over 40 years and @Slate doesn't even know who you are pic.twitter.com/caFvOSe1Zi

— Tim Carlson (@thecivilcomment) January 12, 2017
If you're going to use Gen. Mattis, at least use the right picture @Slate. pic.twitter.com/BvQOkd7Iyb

— Julio Rosas (@Julio_Rosas11) January 12, 2017
[Image via screengrab]
—
>>Follow Alex Griswold (@HashtagGriswold) on Twitter
Have a tip we should know? tips@mediaite.com