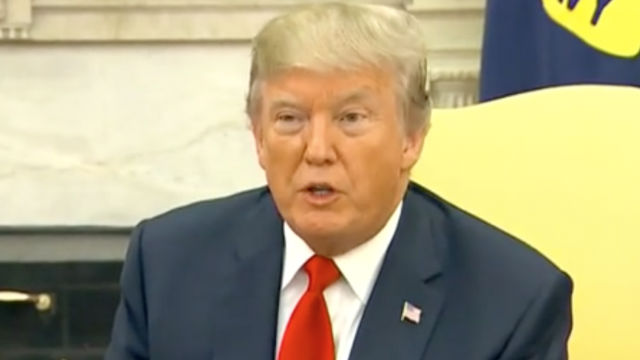 President Donald Trump defended his conduct on a condolence call Monday, after Gold Star widow Myeshia Johnson claimed on Good Morning America that the President couldn't even remember the name of Johnson's husband — Sgt. La David Johnson, who was killed during an ambush in Niger.
"I had a very respectful conversation with the widow of Sgt. La David Johnson, and spoke his name from beginning, without hesitation!" Trump tweeted.
Twitter was outraged at Trump for disputing Myeshia Johnson's account. Here's a sampling of the reaction.
BREAKING: President Trump calls Sergeant La David Johnson's Gold Star widow a liar on social media—slandering her to over 40 million people. https://t.co/2M4Ta38VWx

— Seth Abramson (@SethAbramson) October 23, 2017
With Myeshia Johnson's interview, that appearance by John Kelly looks even more grotesque now.

— Benjy Sarlin (@BenjySarlin) October 23, 2017
You tweeted this while Myeshia Johnson told the world how you disrespected her and the honor of her fallen husband who died for our country. https://t.co/RJpC6rLpJI

— Brian Klaas (@brianklaas) October 23, 2017
Trump has 5 events today where the press will be there to ask questions. Hoping one reporter finds the courage to ask "what is his name?" https://t.co/LrwOxBYiH9

— Mдтт Иegяiи ? (@MattNegrin) October 23, 2017
Can Trump resist the urge to attack the widow of a fallen soldier? https://t.co/Q0X0pGCYaK

— David Corn (@DavidCornDC) October 23, 2017
Very powerful interview on @gma with Myeshia Johnson. I hope @potus watched.

— Montel Williams (@Montel_Williams) October 23, 2017
Dear Myeshia Johnson,

We all remember your heroic husband's name, Sgt. La David T. Johnson, even if Trump doesn't.

Sincerely,
America

— Eugene Gu, MD (@eugenegu) October 23, 2017
What's that again about honoring the troops and the flag, Trump? @pptsapper https://t.co/ZvH8mvktSj

— Sam Sokol (@SamuelSokol) October 23, 2017
whoever's job it was to keep trump's phone from him this morning just banged his or her head against the wall.

— El Flaco (@bomani_jones) October 23, 2017
American politics in 2017 means that some people will claim Johnson's widow has more political motivation to be dishonest than does Trump.

— Philip Bump (@pbump) October 23, 2017
Trump now directly accusing a gold star widow of lying. https://t.co/OVRr9POStl

— Judd Legum (@JuddLegum) October 23, 2017
Again, it would have been so easy for Kelly/Trump to say "I'm sorry Johnson's family was offended, I didn't mean it."

— Emily C. Singer (@CahnEmily) October 23, 2017
Trump remains focused on his feelings rather than those of fallen soldier's widow https://t.co/H82PUJxjXm

— John Harwood (@JohnJHarwood) October 23, 2017
As a military veteran, I never thought I'd see the day when a widow and patriot like Myeshia Johnson is insulted by a Commander-in-Chief.

— Charles Clymer?️‍? (@cmclymer) October 23, 2017
Can we lift up the name of #SgtLaDavidTJohnson so Myeshia Johnson knows the American people know his name, even if the President doesn't?

— Aditi Juneja (@AditiJuneja3) October 23, 2017
There it is. The president now accusing Myeshia Johnson, a Gold Star widow, of lying. https://t.co/R0lpxbnOEM

— Natasha Bertrand (@NatashaBertrand) October 23, 2017
Mr. Trump is maligning Gold Star Widow Myeshia Johnson the same way he did Gold Star parents Khizr and Ghazala Khan. Horrible.

— Simran Jeet Singh (@SikhProf) October 23, 2017
Trump's widow comforting service includes:
1. Making widow cry.
2. Lying about widow through surrogate.
3. Calling widow a liar publicly.

— Jeremy Newberger (@jeremynewberger) October 23, 2017
If you find yourself score-settling with widows, ask your doctor if being president is right for you.

— pourmecoffee (@pourmecoffee) October 23, 2017
[image via screengrab]
——
Follow Joe DePaolo (@joe_depaolo) on Twitter
Have a tip we should know? tips@mediaite.com
Joe DePaolo - Senior Editor