Twitter Tears Into Houston-Based Pastor Joel Osteen For Closing Doors to Megachurch After Storm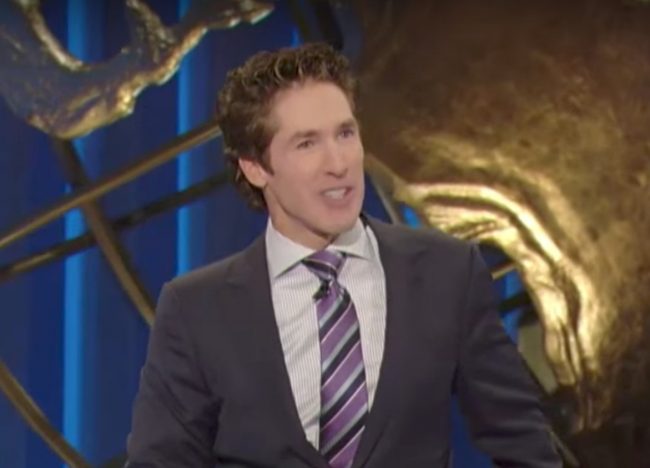 Houston-based celebrity pastor Joel Osteen is coming under fire on Twitter for not opening up the doors to his Church for storm victims to take shelter.
Osteen — pastor at Houston's Lakewood Church — has kept the doors closed even though pictures on Twitter appear to show that the Church escaped the brunt of the storm. Lakewood Church — which was formerly an NBA arena called The Summit, home to the Houston Rockets — holds 16,800 people.
Here is a sampling of the reaction on Twitter:
Lots of people online are wondering why @JoelOsteen hasn't opened his 16,000 seat megachurch in Houston to people.

— Matt Novak (@paleofuture) August 28, 2017
Nice of @JoelOsteen to open his 16,000 seat mega church in Houston to floor victims. Lol jk he's not doing that.

— Eoin Higgins (@EoinHiggins_) August 28, 2017
"Suffer the little children to come unto me but not @JoelOsteen's building because y'all are damp."

Book of Profit https://t.co/3a5MSZcjkf

— quinn cummings (@quinncy) August 28, 2017
How are you guys helping the storm victims in Texas right now?

— Ken Reid (@KennethWReid) August 28, 2017
Front of @JoelOsteen's huge Lakewood Church in Houston at 11 am. Closed due to "flooding". Person who took it asked to be anonymous. pic.twitter.com/gOndOncFuC

— Charles Clymer?️‍? (@cmclymer) August 28, 2017
Nice of @JoelOsteen to open his 16,000 seat mega church in Houston to floor victims. Lol jk he's not doing that.

— Eoin Higgins (@EoinHiggins_) August 28, 2017
Eh, Osteen's net worth is around $56.5 million. How about doing more than praying? https://t.co/ZGswIBxuEF

— Jennifer Hayden (@Scout_Finch) August 28, 2017
When the beautiful people of Houston ask Joel Osteen for the same donations they've been giving his church pic.twitter.com/hrWun5DV56

— Trizz (@Tr1zz) August 28, 2017
[h/t Raw Story]
[image via screengrab]
——
Follow Joe DePaolo (@joe_depaolo) on Twitter
Have a tip we should know? tips@mediaite.com
Joe DePaolo - Senior Editor