Twitter Wrecks Sean Hannity Over Blog Post on Obama Portrait 'Secret Sperm': 'InfoWars-Grade Stuff'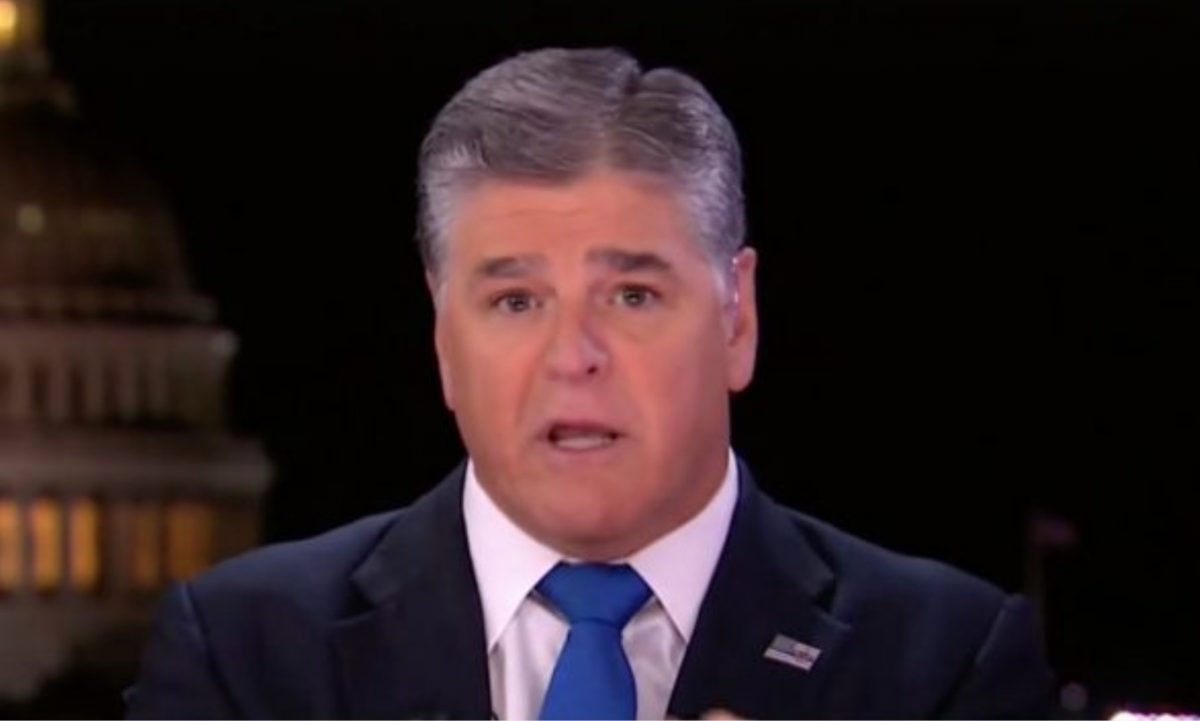 This was inevitable.
Sean Hannity bewildered online political observers on Tuesday when his blog pushed a mind-breaking allegation that Barack Obama's presidential portrait contains "secret sperm."
The picture of the 44th president has drawn plenty of reactions, but the Fox host cranked it up to 11 with his blog's take on the portrait's artist Kehinde Wiley. The post's primary focus was on the "industry insiders" who say that Wiley's "trademark technique" involves "sperm within his paintings," and Obama's portrait got the same treatment.
Twitter mockery: Go!
Dude, please seek help https://t.co/ul0heOMQIf

— Bradley P. Moss (@BradMossEsq) February 13, 2018
White man talks about grabbing women's genitals: just locker room talk

Black man sits in chair in magical forest: inappropriate sexual innuendohttps://t.co/XWw9A4IzEV

— Daniel Dale (@ddale8) February 13, 2018
to say nothing of that disgraceful painting on the ceiling of the Sistine Chapel. guy drew Adam with his ding-dong hanging out! https://t.co/TcEOkLByKu

— Dave Itzkoff (@ditzkoff) February 13, 2018
There is no difference between @seanhannity and Alex Jones. pic.twitter.com/mx3ISaYo7g

— The Reagan Battalion (@ReaganBattalion) February 13, 2018
Jones admits he's a fraud. https://t.co/7QJvuqTfJ2

— Charles C. W. Cooke (@charlescwcooke) February 13, 2018
Is this a joke? https://t.co/c1TxKnzcCR

— Yashar Ali ? (@yashar) February 13, 2018
Hannity one month ago, "Can we please just have some reverence & decorum for the Presidency?"

Hannity today: "BARACK OBAMA HAS SPERM IN HIS HAIR." https://t.co/zpp5GiS2lU

— Ben (@BenHowe) February 13, 2018
This is @infowars-grade stuff https://t.co/PzOTaEtoIO

— Aaron Blake (@AaronBlake) February 13, 2018
This is a parody account, right? Oh wait.
PORTRAIT PERVERSION: Obama Portrait Features 'SECRET SPERM,' Artist Joked About 'Killing Whitey' https://t.co/NYAhuUCHIg

— Charlie Sykes (@SykesCharlie) February 13, 2018
Donald Trump talked about how big his dick is at a presidential debate https://t.co/P4yQM6XshP

— Simon Maloy (@SimonMaloy) February 13, 2018
Alex Jones: GAY FROGS!

Sean Hannity: HOLD MY BEER, BRO!https://t.co/RgIIxY4Goh

— Liz Mair (@LizMair) February 13, 2018
This guy. pic.twitter.com/aEZBWnrEme

— Matt Fuller (@MEPFuller) February 13, 2018
Are you aroused? It's 2018. Let it out. https://t.co/ks5rXev44p

— Rick Wilson (@TheRickWilson) February 13, 2018
UPDATE –– 4:59 pm ET: Mediaite has received the following statement from Hannity:
"Earlier today my web staff posted content that was not reviewed by me before publication. It does not reflect my voice and message and, therefore, I had it taken down."
[Image via screengrab]
— —
>> Follow Ken Meyer (@KenMeyer91) on Twitter
Have a tip we should know? tips@mediaite.com