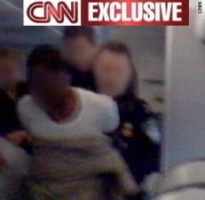 There are currently about ten results in Google for Umar Farouk Abdulmutallab (that number is well into the hundreds of thousands now), who Friday attempted to ignite some sort of explosive device on Northwest Airlines Flight 253. Here is what we know so far (UPDATES below):
He's in custody. Good.
He's Nigerian.
He's 23.
He was on a "U.S. government watch list of people with suspected terrorist ties" — but not a no-fly list.
He traveled from Lagos to Amsterdam to Detroit. He was traveling one way — no return ticket.
He's being treated for burns in Detroit, thanks to the aforementioned failed attempt. Well, better him than anyone else (though there were a few passengers injured, not seriously). Certainly better than if he had been successful.
His fellow passengers thwarted his attempt. Per MSNBC.com: "Two people noticed the attempted attack, and a third person jumped on the man and subdued him, an airline official told NBC News."
He just made flying during the holiday season a LOT more stressful.
More information as it comes.
Update, 8:45pm: He seems to have more than one name or alias. From Gawker's Adrian Chen: "@rachelsklar How'd you settle on 'Umar Farouk Abdulmutallab'? I'm seeing "Abdul Mudallad" and "Abdul Farouk Abdulmutallab". CONFUSING."
UPDATE (Dec. 26th, 11:32 amET): Sahara Reporters claims to have uncovered details about the flight 253 suspect.
He is the son of the recently retired Chairman of First Bank of Nigeria, Dr. Umaru Abdul Mutallab.

The Al-Qaida-linked Abdul Farouk Abdulmutallab is an engineering student at University College London. Saharareporters sources have revealed that prior to his sojourn in the UK, Farouk had studied at the prestigious British School of Lome, Togo. Where he passed his International Bacchalaureates Diploma before moving to UCL.
…
The younger Muttallab lives in a £4 million pounds apartment in Central London, although he is only a student. The apartment, Flat 16, no 2 Mansfield Street in London, W1G9NE is registered to a US company and has been raided by UK security agents today.

Family sources that declined to be named told Saharareporters that in 2008, Farouk has left the London school and frequented Yemen. He told his friends and relatives that he wanted to study Arabic, a decision that came after he reportedly met Islamic radical elements in London.
More info here.
UPDATE (2:40 pmET): ABC News is now reporting that the attack was indeed planned by al Qaeda, in Yemen, where a terrorist expert "sewed bomb materials into the suspect's underwear before sending him on his mission."
Investigators say the suspect had more than 80 grams of PETN, a compound related to nitro-glycerin used by the military. The so-called shoe bomber, Richard Reid, had only about 50 grams kin his failed attempt in 2001 to blow up a U.S.-bound jet. Yesterday's bomb failed because the detonator may have been too small or was not in "proper contact" with the explosive material, investigators told ABC News.

Investigators say the suspect, Abdul Farouk Umar Abdulmutallab, a 23-year old Nigerian student whose birthday was last Tuesday, has provided detailed information about his recruitment and training for what was supposed to be a Christmas Day suicide attack.
Have a tip we should know? tips@mediaite.com