Undercovered: Coding Clubs In Senegal Work to Get More Young Women Programming
Undercovered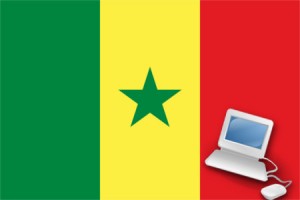 is our daily feature bringing attention to reporting on women's issues worldwide, which we feel deserves a larger audience.
—
More and more young women in Senegal are being trained to enter the technology sector, according to a report published Tuesday in The Guardian.
Ruth Maclean, reporting from Dakar, writes:
Coding clubs have been set up for girls between the age of five and 24 as part of a #RewritingTheCode campaign started by the charity Theirworld, founded by Sarah Brown, the wife of former British prime minister Gordon Brown. The idea is that girls are born with a certain code, a set of expectations about them that say that they belong at home, and that careers, particularly in technology, are not for them. This code needs to be rewritten, the charity says.

Despite these cultural barriers, Senegalese women have much to offer, according to Bitilokho Ndiaye, the adviser on technology and gender at the country's ministry of post and telecommunications. As a young girl, Ndiaye was expected to do well in her studies and do a lot of chores at home – something that was not asked of her brothers. Her frustration at wanting to achieve professionally but being so short of time led her to try to push for more equality for girls.

"I can imagine a Senegalese woman at the head of Google without a problem," she said.

So keen is the Senegalese government to get girls into careers in science, technology, engineering and maths, it has opened new universities, set up technology competitions and held open days in government agencies to show them what working in technology looks like. There are more and more jobs being created in these sectors, and the government wants to make sure that girls are in a position to get them.
You can read the complete report here.
—
Undercovered is a daily feature from Mediaite, bringing attention to stories about women's rights that warrant more attention. Go through the Undercovered archives here. If you have an idea or a tip, please email us at Undercovered@mediaite.com
[images via Wikicommons]
Have a tip we should know? tips@mediaite.com