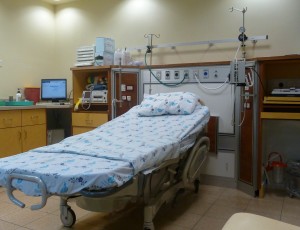 Undercovered is our daily feature bringing attention to women's issues worldwide, which we feel deserve a larger audience.
—
The mortality rate in America of women giving birth has more than doubled since 1987, according to a new report in Vox.
Sarah Frostenson reports that the U.S. is one of the only wealthy nations in the world where women are dying in childbirth at a higher rate than 30 years ago. But while women are dying in greater numbers, they are not dying of the same causes.
"Thirty years ago, women died in the delivery room because of hemorrhages and pregnancy-induced blood pressure spikes. Now they are much more likely to die because of preexisting chronic conditions like heart disease or diabetes," Frostenson writes.
Moreover, black women die at a higher rate that non-black women, and even though more women are giving birth at older ages, that alone cannot explain the rise in maternity deaths.
We know that maternal mortality is a big problem in the United States. But one of the most vexing issues researchers face is the absence of reliable data. Some states have maternal death review boards to collect data. But other states don't. And what the boards do can vary tremendously from state to state, leaving public health researchers with an incomplete view of the problem.
You can read the complete report here.
—
[photo: deror_avi, via Wikicommons. CC BY-SA 3.0]
Undercovered is a daily feature from Mediaite, bringing attention to stories about women's issues that warrant more attention. Go through the Undercovered archives here. If you have an idea or a tip, please email us at Undercovered@mediaite.com
Have a tip we should know? tips@mediaite.com