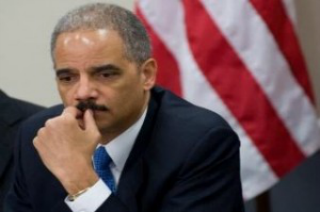 A New York Times report about Attorney General Eric Holder's "fresh start" within the President Barack Obama's administration suggests that the furor over the scandals surrounding his Justice Department have not yet subsided. A number of unnamed Democratic sources close to the administration told the Times that the White House is not happy with the position that Holder has put them in following his department's targeting of journalists.

RELATED: Amid GOP Investigation, Justice Department Denies Eric Holder Committed Perjury
The scandal surrounding the DoJ's sweeping subpoenas of the communications records of journalists with Fox News and the Associated press has put the president and his administration in the difficult position of having to support actions they do not agree with, according to Democrats who spoke to the Times.
"The White House is apoplectic about him, and has been for a long time," One unnamed Democratic official "who did not want to be identified while talking about friends" told the Times.
"How hard would it be to anticipate that The A.P. would be unhappy?" said another former official. "And then they haven't defended their position."
On the record, White House officials are supportive of both Holder's ability and his performance in office. Furthermore, not every Democrat is convinced that the administration could put their troubles behind them if Holder were to resign.
"Whoever Barack Obama puts in there, these people will try to drumbeat him out of there, no matter what," said former White House Chief of Staff William M. Daley.
Read the report via The New York Times
> >Follow Noah Rothman (@NoahCRothman) on Twitter
Have a tip we should know? tips@mediaite.com