Yoani Sánchez Update: U.S. Department of State Intercedes, "Strongly Deplores the Assault on Bloggers"
Following the news of the assault on Yoani Sánchez and other bloggers by security forces last Friday in Havana, the United States has decided to intervene. Late on Monday, the Department of State issued the following statement, openly denouncing the Cuban government and promising "inquiries" on the status of the bloggers:

Ian Kelly
Department Spokesman

Washington, DC

November 9, 2009

The U.S. government strongly deplores the assault on bloggers Yoani Sanchez, Orlando Luis Pardo, and Claudia Cadelo. On November 6, these three activists were forcibly detained by plain clothes security personnel and beaten while en route to a peaceful demonstration in Havana.

The President has proclaimed November 9 World Freedom Day. It is precisely this sort of repression and violence against the voices of freedom and reconciliation that World Freedom Day is meant to expose. We call on the Government of Cuba to ensure the full respect of the human rights and fundamental freedoms of all its citizens.

We have expressed to the Cuban government our deep concern with the assaults, and we are following up with inquiries to Yoani Sanchez, Orlando Luis Pardo, and Claudia Cadelo regarding their personal well-being and access to medical care.
Meanwhile, news of this statement and of the attack are predictably absent from the Cuban press. The websites of the Cuban News Agency, as well as those of official newspapers Granma and Juventud Rebelde, have no reports on Yoani Sánchez's story.
Yoani Sánchez has resumed her activities. Her Twitter feed today reported she attended the meeting of the "Blogger Academy," an independent center of teaching that gathers some 30 students. A post said she was recovering from her back injury, and that the Academy was "the best balm":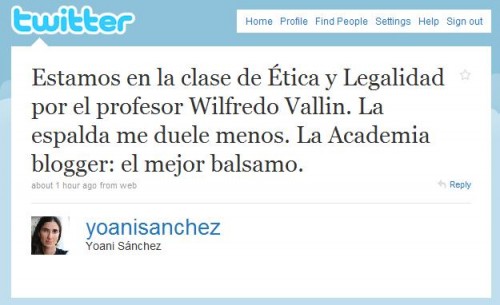 Have a tip we should know? tips@mediaite.com