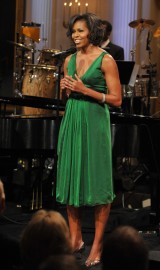 Vanity Fair has released its 2009 Best-Dressed List. Does anybody care? It wasn't that long ago that these sorts of lists, from publications like Vanity Fair, were powerful measures of a star's clout, or their clout-to-be as the case may have been. Vanity Fair in particular had a sharp sense of the zeitgeist and was once very good at plucking young stars out of the mix just before they hit the big time.
These days Vanity Fair's strength, such as it is, lies mostly in its ability to recap some golden era that is still only available to the public through the TimeLife photo archive. To wit: The best-dressed VF archive that is also now online is far and away the more interesting read! Come to think of it, you know who should really do a best-dressed list? The Sartorialist! That would be a great read.
Anyway, best-dressed! Michelle Obama and Carla Bruni top the list. Okay, I take it back, I am not yet tired of looking at pictures of Michelle Obama. But Kelly Ripa is also inexplicably in there. Along with various, mostly uninteresting European royalty. Also, Brad Pitt, Alicia Keys, Anne Hathaway, oh and the President! Well he is well-dressed, it's true. Oh, by the way you can vote on these, should you manage to make it all the way through. However, by number 17 or so it becomes clear why TMZ has had such great success. Yawn. Far more interesting is this slide show of the 'Chosen Ones' which includes the likes of Babe Paley, and Audrey Hepburn. If VF.com did a slide show like this every week we would come back for more.
Have a tip we should know? tips@mediaite.com