Video Surfaces of Future First Gay NFL Star Michael Sam Dancing Topless at Gay Club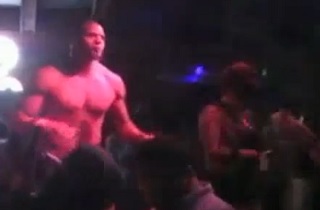 University of Missouri defensive lineman Michael Sam is huge worldwide news these days, by virtue of his status as the likely first openly gay player in the National Football League (if there's any sanity to the draft). Before this week, however, Sam was already huge news in Missouri, and among college football fans, which makes it somewhat remarkable that video of Michael Sam dancing topless at a Missouri gay club is only now surfacing.
Sam, the SEC Defensive Player of the Year for 2013 and a lock for a high NFL draft spot (at least, before this week), came out to the world last weekend, but his teammates already knew he was gay, many before he came out to them in August. In newly-surfaced video, Sam is shown dancing topless at a Columbia, Missouri gay club called The SoCo Club, video which was shot, according to TMZ, back in October. The gossip site also reports that, according to their sources, the club's policy required Sam to put his shirt back on… eventually.
The video is a testament to the self-confidence and poise that Sam has demonstrated, that even then, he wouldn't let the risk of having people find out he was gay stop him from living his life, but also remarkable in that it took this long to emerge. In the social media age, protecting Sam's privacy seems to have taken a back seat to instant viral video fame.
Here's the video of Michael Sam's terpsichorean tribute to Michael Jackson's "Rock with You," as first reported by TMZ:
(h/t Wonkette's Sister)
Have a tip we should know? tips@mediaite.com