Wanna See How People Are Reacting to Piers Morgan's Column on Beyoncé's Lemonade?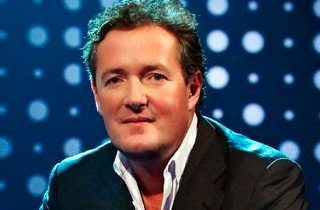 How many times have you listened to the audio version of Lemonade? How many times have you watched the visual album? It's almost 48 hours old now, so you should be in the double digits. Well, if you look on Twitter, you'll think that's the benchmark, considering that everyone has been talking about Beyoncé's huge releases so much.
In fact, that "so much" is already bordering on "too much." Just ask the BeyHive what they think about Piers Morgan's take on Lemonade. He wrote a Daily Mail column about how sad he is to see Bey take a turn for the political lately. Her Super Bowl halftime show in February featured imagery reminiscent of the Black Panthers and Saturday night's Lemonade release brought viewers footage of Sybrina Fulton and Lesley McSpadden, the mothers of Trayvon Martin and Mike Brown. Her visual album even featured a quote from Malcolm X: "The most disrespected woman in America is the black woman."
Many people think that Morgan's piece is the highest form of disrespect against a black woman. He said this:
The new Beyoncé wants to be seen as a black woman political activist first and foremost, entertainer and musician second … I preferred the old Beyoncé. The less inflammatory, agitating one … The one who didn't play the race card so deliberately and to my mind, unnecessarily.
So, her fans are saying this:
I have to be honest, I prefer the old Piers Morgan. The baby who had never expressed an opinion on anything. (As opposed to today's baby…)

— Joe Macaré (@joemacare) April 25, 2016
How much is a Piers Morgan "hot take" on anything worth anyways. Both his hairline & his journalism are experiencing a recession. ????

— ℕUFF$AID (@nuffsaidNY) April 25, 2016
"Is that Piers Morgan's hot take on Lemonade over there?" pic.twitter.com/45gLUgOYAB

— Poe Zandaron (@ZandarVTS) April 25, 2016
Me reading this Piers Morgan nonsense Beyoncé article pic.twitter.com/krF7lUT9Wm

— Arun (@angertwink) April 25, 2016
piers morgan, the UK's biggest L since the revolutionary war

— robesman (@robesman) April 25, 2016
As you might have guessed, Morgan is defending himself against his critics by doubling down on his column's assertions.
VIDEO: My full CNN interview with @Beyonce in 2011.
When she wanted to be judged on her talent not skin colour. https://t.co/YuMqLBmEUq

— Piers Morgan (@piersmorgan) April 25, 2016
Well that escalated quickly… @Beyonce pic.twitter.com/F7gmVr8z4c

— Piers Morgan (@piersmorgan) April 25, 2016
Good luck to him in the following hours. The Hive has been outdoing themselves in the past few days.
[image via Twitter]
For more, follow Lindsey on Twitter or Facebook.
Have a tip we should know? tips@mediaite.com