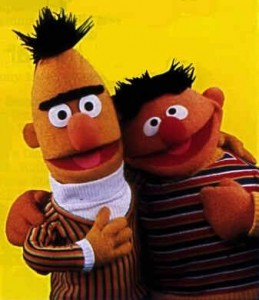 November 2009 marks the 40th anniversary of Sesame Street, the self-proclaimed "most widely viewed children's show in the world." Google is celebrating with logo doodles, while the Wall Street Journal's Speakeasy blog is using the opportunity to ponder the age old pop culture question: Are Bert and Ernie gay?
Probably not, but who would start such a salacious rumor about a pair of puppets? As it turns out, it was probably Studio 360 host and author Kurt Andersen! Speakeasy quotes Anderson's 1980 book The Real Thing:
"Bert and Ernie conduct themselves in the same loving, discreet way that millions of gay men, women and hand puppets do. They do their jobs well and live a splendidly settled life together in an impeccably decorated cabinet."
When reached for comment about being the first to "out" the fabric children's characters, Andersen responded by saying, "As far as I know, it was simply and purely a joke of mine. (As it happened, my wife-to-be had gone to work for Sesame Street in 1978.) And no, I had no notion, of course, that this idea would become an enduring urban legend. But it pleases me that it has."
But the hetero-normative mainstream isn't having it! "They don't exist below the waist," says Sesame Workshop President and CEO Gary Knell. Then, Speakeasy writer Michelle Kung points to an official denial from Sesame Street in the early '90s:
"Bert and Ernie, who've been on Sesame Street for 25 years, do not portray a gay couple, and there are no plans for them to do so in the future. They are puppets, not humans. Like all the Muppets created for Sesame Street, they were designed to help educate preschoolers. Bert and Ernie are characters who help demonstrate to children that despite their differences, they can be good friends."
Good friends is all! How dare that Kurt Andersen and his subversion. Happy 40th anniversay, Bert and Ernie — whatever the nature of your relationship may be.
Have a tip we should know? tips@mediaite.com