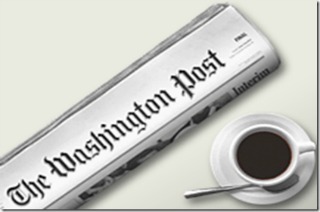 In a major shakeup on Monday, the Washington Post announced that it was selling the paper to Amazon.com founder and CEO Jeff Bezos for $250 million. The Post made this announcement to the entire assembled staff on Monday in the paper's auditorium. "Bezos, whose entrepreneurship has made him one of the world's richest men, will pay $250 million in cash for The Post and affiliated publications to the Washington Post Co., which owns the newspaper and other businesses," The Post's announcement reads.

Seattle-based Amazon will have no role in the purchase; Bezos himself will buy the news organization and become its sole owner when the sale is completed, probably within 60 days. The Post Co. will change to a new, still-undecided name and continue as a publicly traded company without The Post thereafter.
"The Washington Post Co.'s newspaper division, of which The Post newspaper is the most prominent part, has suffered a 44 percent decline in operating revenue over the past six years," the report reads. "Although the paper is one of the most popular news sources online, print circulation has dwindled, too, falling another 7 percent daily and Sundays during the first half of this year."
The Post Co.'s chief executive, Donald Graham, described feelings of "shock" over the "unthinkable" decision to sell the paper. However, he said that Bezos' offer was one that demanded consideration.
Bezos has never operated a paper before, but stressed in a statement that the paper's ideals will not change under his ownership. "[T]he key thing I hope people will take away from this is that the values of The Post do not need changing," Bezos said. "The duty of the paper is to the readers, not the owners."
Read the full announcement via The Washington Post
> >Follow Noah Rothman (@NoahCRothman) on Twitter
Have a tip we should know? tips@mediaite.com