WATCH: Arizona Pastor Celebrates the 'Good News' Of the Orlando Massacre (UPDATED)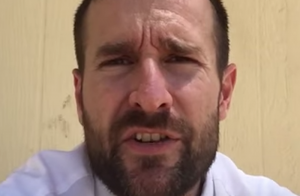 Ever since the massacre of 49 patrons at an Orlando gay bar in the early hours of yesterday morning, we've been doing a lot of talking about religion. The shooter's religion, in particular, has been brought up, given his self-proclaimed ties to the Islamic State. The shooter's imam was even interviewed. Conversely, Christianity has been brought up, as well, especially as ardently Christian politicians who have voted against the best interests of the LGBT community have issued vaguely-worded condemnations of the attack while leaving out the fact that it targeted a gay bar.
In short, religious ideologies and the differences between them get people heated up very quickly. Now, the following video may get you heated up very quickly, because it shows a Christian pastor outlining "the good news and the bad news" about the massacre.
Spoiler alert: the "good news" is that "sodomites," "pedophiles," and "disgusting perverts" died.
It almost feels senseless to give this man, Steven Anderson of Tempe, Arizona, a platform by addressing his diatribe, but more importantly, it should serve as a reminder of the type of radical ideology that allows and encourages the mistreatment (and murder) of LGBT people. That ideology is not limited to Islam.
I won't transcribe parts of the video; you can watch what is available if you want to. What I will do is tell you that in an itty bitty act of Internet justice, 5,725 of the clip's 111,111 viewers downvoted it. Only 568 have upvoted it. Eventually, those downvotes got the attention of YouTube, which took the entire thing down for violating their policy on hate speech.
Luckily, the Internet being the Internet, some people had already ripped it and added their own commentary to it. Note that the following does not represent the feelings of Mediaite or its editors; this is simply the only available record of Anderson's original post.
Via Yahya Snow:

Anderson has gone on these types of rants before. This is not his first time stirring the pot of anti-LGBT bigotry, nor will it be his last. It is just a good answer to give when people ask how anyone — shooter, politician, etc. — could become so enchanted by a radical idea that it motivates every choice they make.
[image via screengrab]
For more from Lindsey, go to Twitter or Facebook. 
Have a tip we should know? tips@mediaite.com