Watch Keith Olbermann Write A Special Comment (And More From "Lean Forward")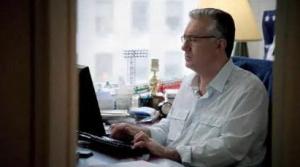 MSNBC's "Lean Forward" re-branding campaign will be the biggest in network history, and it kicked off last week with the first two Spike Lee-directed ads.
The broad themed promos will give way to more specific, host-centered ads – which you can now see online (and below):
TVNewser reports six MSNBC personalities will be featured in individual ads out soon, and five can be viewed online. Keith Olbermann's has the least voiceover – it centers around the Countdown host sitting at his computer, writing a Special Comment. We see him type, edit, and eventually see a clip of the finished product on-air.
Rachel Maddow is shown preparing for her show before, during and after a staff meeting. Joe Scarborough's ad gives a glimpse at Morning Joe during the commercial breaks, with the tagline, "Even when the cameras are off, America is always on." We see Chris Matthews in the 30-seconds before his show goes live. Ed Schultz (yes, Ed gets an ad) walks through New York City to his studio and asks if "reason" is dead. "Hell no," he says. Lawrence O'Donnell also will have an ad.
The ads may not feel like Spike Lee specifically, but they are well-made and unique in the cable news promo department. The music adds to a grander feeling of all the commercials – a packed 30 seconds of interesting camera shots and peel-back-the-curtain moments.
Right now, msnbc.com's "Lean Forward" page doesn't seem to have the videos available, but if you watch to the end of any video you can choose a different selection to watch.
Here's the Olbermann ad, and below the Maddow and Scarborough:

Visit msnbc.com for breaking news, world news, and news about the economy
Maddow ad:

Visit msnbc.com for breaking news, world news, and news about the economy
Scarborough ad:

Visit msnbc.com for breaking news, world news, and news about the economy
—–
» Follow Steve Krakauer on Twitter
Have a tip we should know? [email protected]