WATCH LIVE: British Parliament Debates Whether to Ban Trump From the United Kingdom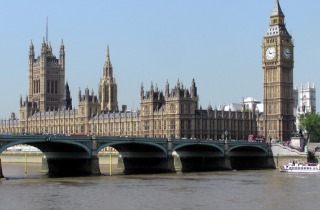 Donald Trump's anti-Muslim policy proposals have drawn tremendous scrutiny from many in the United Kingdom in recent months, and today, the British Parliament will discuss a public petition calling for the mogul to be banned from the nation.
Great Britain's government website allows the public to submit issues that they want addressed in Parliamentary debate sessions, and British citizens are able to sign and support them in a format similar to America's "We the People" petitions. With approximately 575,000 signers, House of Commons lawmakers are obligated to address the matter, and the session is scheduled to start today at 11:30 A.M. E.S.T.
The petition suggests that Trump's rhetoric goes against British hate speech laws, for which the government has the right to ban those who might present a danger to the public. While David Cameron's office expressed doubt that Trump's banning would come to pass, the Prime Minister and numerous British officials condemned the frontrunner's rhetoric by saying his privilege to visit the U.K. is on thin ice, and his rhetoric is "divisive, unhelpful and quite simply wrong."
As The New York Times noted, it is possible the motion to ban Trump will fail; British home secretary Theresa May has the privilege of deciding to ban Trump, rather than the lawmakers who argue for it. Trump's organization has taken notice of the impending deliberations, and he has threatened economic retaliation and the withdrawal of the mogul's property investments if the the ban is successful.
You can watch the debate in the video above, via Channel 4 News.
UPDATE – 12:15 P.M. EST Trump's people issued a statement on the debate, and they obviously did not approve of it:
Trump camp issues statement on the Parliamentary debate on banning him from entering the UK pic.twitter.com/axlqaqliXl

— Anthony Zurcher (@awzurcher) January 18, 2016
[Image via wikimedia commons]
— —
Have a tip we should know? tips@mediaite.com