Weak, Stupid, A Dope: Trump Lambastes NFL Commish Roger Goodell in NYT Mag Feature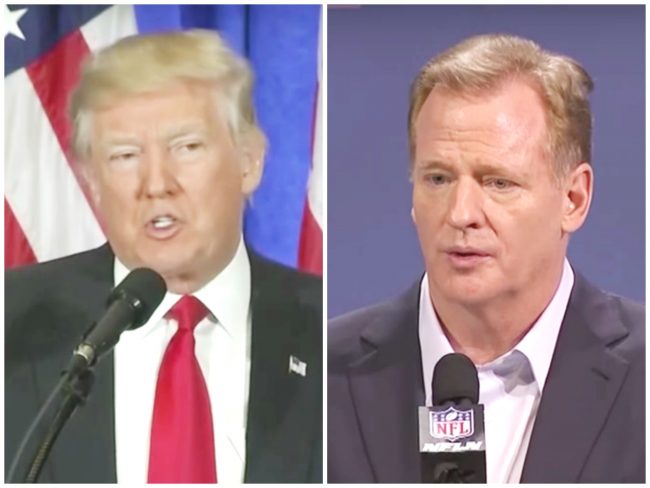 There is little question about who President Donald Trump will be rooting for in Super Bowl LI on Sunday night. Given his friendships with New England Patriots owner Robert Kraft, coach Bill Belichick, and quarterback Tom Brady, the commander-in-chief will undoubtedly be cheering on the Pats.
And just like so many other Pats fans, Trump has little use for NFL Commissioner Roger Goodell, who suspended Brady for four games in the deflategate scandal. In an interview with The New York Times Magazine chief national correspondent Mark Leibovich, the President was unsparing in his assessment of Goodell — blasting the commissioner for his handling of both deflategate and the Ray Rice domestic violence case.
"The commissioner is a weak guy," Trump said. "When he made the Ray Rice deal, everybody said: You're stupid. You're weak. And it was such a weak deal. So now he's going overboard with their star, Brady."
In Trump's telling, per Leibovich, Kraft and Goodell had a handshake agreement of sorts over a resolution to deflategate. Goodell then went back on that agreement, and handed down the strict penalty, a quarter-season suspension.
Kraft, in Trump's estimation, "choked, just like Romney choked. He said: 'You know what? They winked at me.' I said, 'Bob when you make a deal, you should have gotten it all wrapped up.' Who ever heard of making a deal like that? Now you got this mess."
But Trump made clear where he places the real blame.
"The commissioner is a dope," Trump said. "He's a stupid guy."
Read the whole feature here, via the Times Magazine
[images via screengrab]
–
Follow Joe DePaolo (@joe_depaolo) on Twitter
Have a tip we should know? tips@mediaite.com
Joe DePaolo - Senior Editor