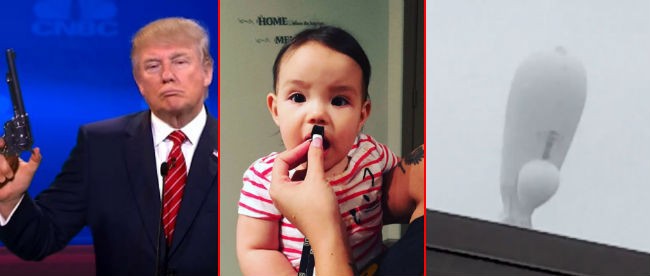 Welcome to the inaugural edition of the #WeeklyWTF, a new regular column here at Mediaite that will showcase the staff's favorite posts from the previous week.
Sure, a lot of important things happened in the news media world this week, but let's face it — all you people really care about are craziest, funniest and most off-the-wall sh*t the 24-hour news cycle has gifted (or cursed) society with. So every Friday, we will re-present to you the best stories of the past 168 hours.
Like when Jeb Bush was really, really creepy…
When former Florida Governor Jeb Bush expressed how "hot" he thought the star of Supergirl was, we decided to determine whether or not he was the creepiest Republican presidential candidate. The answer to that questions depends on your perspective, but be cautious if you decide to venture back into La La Land with Tommy Christopher's list.
Like when Tila Tequila dressed her infant daughter as "Baby Hitler"…
Remember #BabyHitler? Last Friday, the New York Times magazine asked readers whether or not, if given the chance, they would go back in time and kill Nazi Party leader Adolf Hitler as a baby. Instead of answering "yes," "no," or "I don't know," most of the Internet asked "why?" They asked the same question again when Tila Tequila decided to jump on the bandwagon with an Instagram photo of her daughter dressed as baby Hitler.
Like when Guatemala elected a comedian as its next president…
The late Robin Williams starred in a 2006 movie called Man of the Year, in which a faulty electronic voting system put a television comedian in the White House. Almost a decade later, the sovereign nation of Guatemala did just that — albeit without the caveat of broken voting machines. They actually voted for Jimmy Morales, a former television comedian who campaigned as a political outsider (sound familiar?) and won.
Like when Hillary Clinton's campaign staff gave tips on how to dress like their boss for Halloween…
Using photos of Democratic presidential candidate Hillary Clinton from throughout her personal and political life, Clinton campaign staffers published how-to guides for how to dress like their boss for the big day. No, seriously. They actually did this.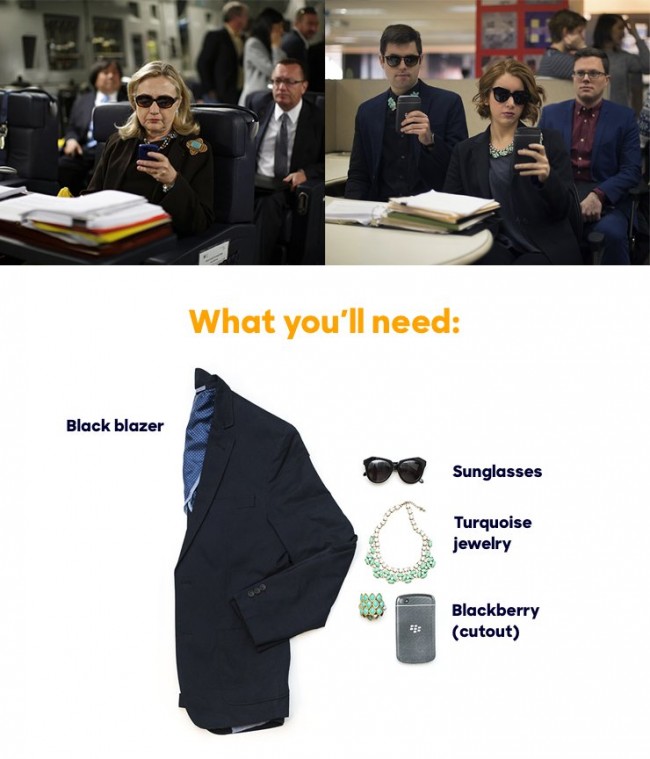 Like when a witch sued a warlock for harassment in Salem, Massachusetts…
Honest to Wicca, really? "Really," the self-described "witch priestess" Lori Sforza would probably say if asked. She brought Christian Day, a fellow store owner and former business partner, to court on Wednesday, seeking protection from his alleged harassment of her via telephone and online. Said court just so happened to be located in the town of Salem, made famous by the Salem Witch Trials of the late 17th century. At one point, Sforza told the judge, "I can see into my own future. That's why I'm here today."
Like when The View made fun of Carly Fiorina's face, then CNN called them out for it…
A few of the women at the daytime talk show on ABC took issue with Republican presidential candidate Carly Fiorina's face. Michelle Collins said she "looked demented," and Joy Behar thought it would make a great "Halloween mask." Mere hours later, CNN's Brooke Baldwin replayed Mediaite's clip from The View and chastised the co-hosts for their apparent "double standard." She even dug up a not-so old clip of the ladies ridiculing Donald Trump for similar comments.
Like when everyone freaked out about a runaway balloon, which was eventually deflated with shotguns…
Wednesday afternoon was a bit slow, which was probably why everyone started freaking out about a runaway surveillance balloon that terrorized the Pennsylvania. The Department of Defense JLENS balloon, which resembled a small blimp, eventually came down in the woods. Once on the ground, state police had to deflate it using shotguns. The deflated it with shotguns. Meanwhile, Texas was too busy laughing. Why? Because if the balloon had run amok down there, it never would've gone viral.
@ABC @GMA Landed in bloomsburg right by my school. Knocked out the power at CMVT. pic.twitter.com/WLJydKVf2I

— Fisher P Creasy (@FPCreasy) October 28, 2015
Like when Reince Priebus called the CNBC GOP debate a "crap sandwich"…
Republican National Committee Chairman Reince Priebus made no secret about his distaste for the CNBC GOP Debate on Wednesday. He spent most of the night and the following morning trashing the network, saying that they "should be ashamed." But the real gem came in the form of Priebus' appearance on Sean Hannity's Fox News show on Thursday, during which he called the CNBC debate a "crap sandwich."
A.
CRAP.
SANDWICH.
Check back each Friday afternoon for the Mediaite staff's full run down of the week's best in bizarre.
[Image via screengrabs]
— —
>> Follow Andrew Husband (@AndrewHusband) on Twitter
Have a tip we should know? tips@mediaite.com