Well, No One Likes Lena Dunham's Latest Interview, So She's Responded to the Criticism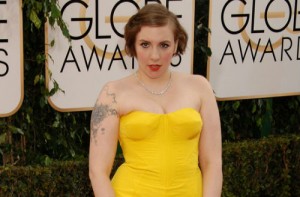 Another day on the Internet, another day the Internet doesn't like Lena Dunham. Fame is fickle. Remember that.
Today, her Lenny Letter publication put out a conversation between her and Amy Schumer. It showed her making assumptions about how much Odell Beckham, Jr. didn't want to have sex with her at the Met Ball:
I was sitting next to Odell Beckham Jr., and it was so amazing because it was like he looked at me and he determined I was not the shape of a woman by his standards. He was like, "That's a marshmallow. That's a child. That's a dog." It wasn't mean — he just seemed confused.

The vibe was very much like, "Do I want to fuck it? Is it wearing a … yep, it's wearing a tuxedo. I'm going to go back to my cell phone." It was like we were forced to be together, and he literally was scrolling Instagram rather than have to look at a woman in a bow tie. I was like, "This should be called the Metropolitan Museum of Getting Rejected by Athletes."
Without speaking to him, that isn't a very nice thing to do. The Internet agrees!
If you had "Odell Beckham Jr." in the pool of what would finally turn everyone on Lena Dunham… well, congratulations, my friend.

— David A. Graham (@GrahamDavidA) September 2, 2016
Hi I am Lena Dunham my life is so hard don't believe me well listen to this I went to a fancy fundraising gala and it was like not that fun

— Katherine Timpf (@KatTimpf) September 2, 2016
lena dunham's Professor X like ability to read minds is just another example of white privilege

— Desus Nice (@desusnice) September 2, 2016
The audacity of Lena Dunham to think that Odell did not speak to her because he thought it through and made a deliberate decision not to…

— Craig Jenkins (@CraigSJ) September 2, 2016
And note that Lena Dunham also didn't say that she tried to talk to Odell Beckham and that he didn't talk back.

— Mia McKenzie (@miamckenzie) September 2, 2016
LENA DUNHAM KEEPS ON TRYING TO MAKE THE FACT SHES NOT CONVENTIONALLY ATTRACTIVE OUT LIKE ITS 400 YEARS OF SLAVERY

— Marshawn McLuhan (@dances) September 2, 2016
now I just want to now how many celebrities look at their phones to avoid talking to Lena Dunham

— Proven Content Maker (@Bro_Pair) September 2, 2016
Moments ago, she tweeted this:
.@OBJ_3 is talented, stylish, seems super awesome and wasn't into chatting with me at a fancy party.

— Lena Dunham (@lenadunham) September 2, 2016
My story about him was clearly (to me) about my own insecurities as an average-bodied woman at a table of supermodels & athletes.

— Lena Dunham (@lenadunham) September 2, 2016
Will it help the situation? So far, the responses to her tweets aren't great, but maybe they will get better. Maybe they won't. Maybe the Met Ball isn't for Lena Dunham.
[image via screengrab]
Have a tip we should know? tips@mediaite.com