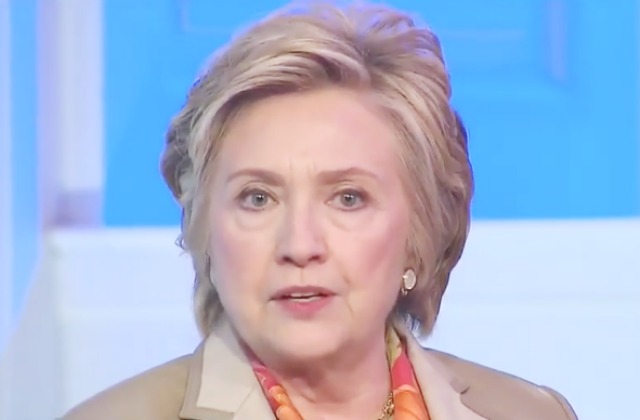 Last night, Hillary Clinton endorsed a new media platform called Verrit, something a lot of people hadn't really heard of until she did so.
I'm excited to sign up for @Verrit, a media platform for the 65.8 million! Will you join me and sign up too? https://t.co/bOLSMyk6bG

— Hillary Clinton (@HillaryClinton) September 3, 2017
First off, the 65.8 million is a reference to how many votes Clinton received in the 2016 election.
The Verrit Twitter account describes the site as "media for the 65.8 million" as well.
Verrit was set up by Peter and Leela Daou. Peter Daou is a former Clinton adviser who has been incredibly vocal on Twitter since the election. After Clinton's endorsement, Daou explained what Verrit is and who its audience is, saying that "Hillary Clinton's voters… are unrepresented in the media":
1. THREAD—EXCITING NEWS!! Hillary Clinton endorses @Verrit, the media platform we're building for the 65.8 million! https://t.co/NDk4A5Xi81

— Peter Daou (@peterdaou) September 3, 2017
2. @LeelaDaou and I founded @Verrit because Hillary Clinton's voters – an inspiringly diverse coalition – are unrepresented in the media. pic.twitter.com/OYN9IMvbft

— Peter Daou (@peterdaou) September 3, 2017
3. @Verrit is necessary because we need to talk about how misogyny, sexism, and racism plague our politics and impact our elections.

— Peter Daou (@peterdaou) September 3, 2017
4. @Verrit is necessary because if you're #StillWithHer, you endure constant harassment and bullying from the radical right and fringe left.

— Peter Daou (@peterdaou) September 3, 2017
5. @Verrit is necessary because 65.8 million people who cast a patriotic vote when democracy was on the line have the right to be heard. pic.twitter.com/GddcT6zdY0

— Peter Daou (@peterdaou) September 3, 2017
6. @Verrit is necessary because future generations deserve to know the FACTS about how we got here, or the same injustices will be repeated.

— Peter Daou (@peterdaou) September 3, 2017
7. @Verrit is our way of declaring independence, repudiating false narratives, and telling our OWN story. https://t.co/NDk4A5Xi81

— Peter Daou (@peterdaou) September 3, 2017
8. Our plan: Daily, rigorously-verified info and analysis. Weekly Daou podcast this fall. Premium version and VerritTV on YouTube in 2018.

— Peter Daou (@peterdaou) September 3, 2017
9. Growing @Verrit won't be simple, but with your help we're confident it can be done. Join us and spread the word! https://t.co/NDk4A5Xi81

— Peter Daou (@peterdaou) September 3, 2017
As the Verrit website explains, "Verrit collects and contextualizes noteworthy facts, stats, and quotes for politically engaged citizens. Each 'verrit' is a verified item of information marked with a 7-digit identification code."
But as of this posting, the website is down. Daou said it was a DDoS attack:
Once again, we've confirmed a DDOS attack on @verrit after Hillary Clinton endorsed the platform. We'll get it back up ASAP. Thanks! https://t.co/jSo0a3lpQC

— Peter Daou (@peterdaou) September 4, 2017
Here are some examples of individual "verrits" that have been tweeted out in the past few months:
— Verrit (@verrit) June 5, 2017
— Verrit (@verrit) June 5, 2017
— Verrit (@verrit) June 5, 2017
— Verrit (@verrit) June 5, 2017
— Verrit (@verrit) June 5, 2017
— Verrit (@verrit) June 5, 2017
— Verrit (@verrit) June 8, 2017
— Verrit (@verrit) June 29, 2017
— Verrit (@verrit) July 12, 2017
— Verrit (@verrit) August 12, 2017
The Trump Presidency Was Made Possible by the Mainstream Media https://t.co/9o6Eq80mBb pic.twitter.com/9KdxcuQY4w

— Verrit (@verrit) August 22, 2017
[image via screengrab]
— —
Follow Josh Feldman on Twitter: @feldmaniac
Have a tip we should know? [email protected]
Josh Feldman - Senior Editor