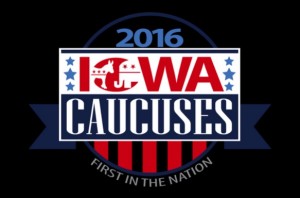 Decision day is here for the people in the Hawkeye State, and caucus goers will finally be deciding who they would like to see earn their party nominations. After months (what feels like years) of speculation, Iowa will become the first state in the nation to let their voices be heard, and many networks will be broadcasting live results throughout the night.
The final Des Moines Register poll from the weekend indicates that Democratic frontrunner Hillary Clinton is most likely to win her party's nomination throughout the 99 counties of Iowa, though her lead over Vermont Senator Bernie Sanders falls within the error of margin. On the Republican side, real estate mogul Donald Trump heads into the caucus with the lead over Texas Senator Ted Cruz.
The caucus-going experience is unique to Iowa; people physically show up and gather in over 1,600 precincts state-wide, and stand in corner of the room designated by the candidate of their choice. Undecided voters are up for grabs, as campaigns then debate and try to convince those caucus-goers to join their candidate.
MSNBC will be airing The Place for Politics throughout the evening, anchored by Rachel Maddow, Chris Matthews, and Brian Williams. Many network personalities and anchors are in Iowa for their programs, including Joe Scarborough, Mika Brzezinski, Chuck Todd.
Fox News will be hosting America's Election HQ beginning at 8 p.m. ET, and their block of Iowa Caucus programming is as follows:
Your World (4-5PM/ET): host Neil Cavuto will be reporting live from Des Moines
The Five (5-6PM/ET): the co-hosts will be reporting live from Des Moines
Special Report with Bret Baier (6-7PM/ET): Baier will be hosting live from Des Moines
On the Record (7-8PM/ET): Greta Van Susteren will be hosting live from Des Moines
America's Election Headquarters (8-11PM/ET): Baier & Megyn Kelly will be hosting live Caucus results from Des Moines
The Kelly File (11-12AM/ET): Kelly will be hosting live from Des Moines
CNN will be featuring America's Choice 2016: The Iowa Caucus beginning at 7 p.m. ET hosted by a group of CNN anchors ; additionally, Fox Business will be showing a special edition of Cavuto: Coast to Coast with host Neil Cavuto from 8:00 p.m. – midnight ET.
CPSAN will be airing nonstop coverage of the 2016 Iowa Republican Caucus Meeting as well.
Have a tip we should know? tips@mediaite.com