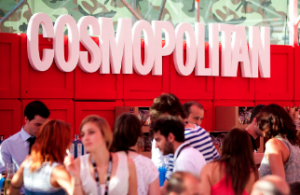 If we learned anything from watching 13 Going on 30 and The Devil Wears Prada, it's that writers have glamorous, impressive, fast-paced lives. In high school, when I first toyed with the idea of becoming a reporter, I always imagined that my adult life would be a perfect combination of Sex and the City and All the President's Men.
Sadly, I can report from experience that there is a marked lack of galas, fancy outfits, high-profile drama, and secretive sources present in my life (but perhaps it is all still forthcoming!). What I can also report is that a whole new generation will grow up influenced by the illusion that writing is chic and mysterious 24/7 because the editors of Cosmo are getting their own reality show.
Their cross-over efforts with television are not the first foray Cosmo has made into the territory of other media. As they've endeavored to appeal more to millennials, a distinction between the print version of the magazine and Cosmopolitan.com has emerged and indeed, the content of both is very different; the online version is full of personal essays, trending stories, and "relatable" memes and videos. Their efforts to appeal to the younger generation are just as obvious on platforms like Snapchat and Twitter as they are in the online version's unique content.
Tune in to https://t.co/rk9IJBXE90 tomorrow at 4:30pm EST to watch a freestyle rap from your boyfriends @Timeflies ? pic.twitter.com/XGGk6kMlA5

— Cosmopolitan (@Cosmopolitan) May 2, 2016
The 10 funniest lush bath bomb memes you've ever seen (the pickle one OMG ?) https://t.co/OBNj617Jtc pic.twitter.com/iDK7UYZarq

— Cosmopolitan (@Cosmopolitan) May 2, 2016
The OMG- and emoji-laden captions are a good example of what the new-and-improved Cosmo is all about, so on second thought, maybe the reality show will be less about unattainable glamour and more focused on the "relatable," like their content is.
It's all speculation now, since there are very few confirmed details. Women's Wear Daily did get the following scoop, though:
A camera crew from Bunim/Murray Productions has been following select editors at the office and after hours to document their lives outside of work.
Cosmo is also backing a scripted series called Issues that will appear on Freeform in the coming months. It is executively produced by Cosmo's editor-in-chief, Joanna Coles, and follows the ups and downs in the life of a young editor.
Hmm, where have we heard that one before?
[image via Wikimedia Commons]
Until Lindsey gets her reality show, you can follow her on Twitter and Facebook.
Have a tip we should know? tips@mediaite.com