Xavier Prof. Gets Harassed for Having the Same Name as One of Brock Turner's Friends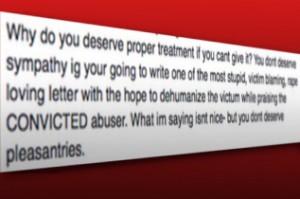 Xavier University Professor Leslie Rasmussen woke up Tuesday morning to several Twitter messages and emails asking her if she liked rape.
Rasmussen, a 36-year-old communications professor, was told in one anonymous email, "I hope you never pass out and somebody jumps on you and rapes you." A Twitter user said to her: "Don't give birth to females….KARMA!! Maybe at the hands of your friend, once a deviant always a freak! You enjoy his rape?"
Rasmussen received the harassment because she shares the same name with Leslie Rasmussen, an elementary school friend of Brock Turner, the 20-year-old Stanford student convicted of three counts of sexual assault.
The other Rasmussen wrote a letter to the judge in Turner's case, which was given to New York magazine by a source and published Monday, in which she referred to the assault as "the horrible situation that [Turner] was involved in." Rasmussen blamed his conviction partially on a culture of political correctness. She wrote: "But where do we draw the line and stop worrying about being politically correct every second of the day and see that rape on campuses isn't always because people are rapists."
Turner's conviction — and the judge's controversial decision to give him a lenient six-month sentence — catalyzed a nationwide uproar and reignited a conversation about rape culture after Buzzfeed published the victim's harrowing letter to the court describing her experience.
Professor Rasmussen told the Cincinnati Enquirer, who reported on her harassment Tuesday night, "I, like many, am outraged at this ruling in this case. But the harassment is absolutely perpetuating the cycle. It is not helping. It is diminishing their credibility as activists, and that is unfortunate because this is an important conversation."
[image via]
Have a tip we should know? tips@mediaite.com