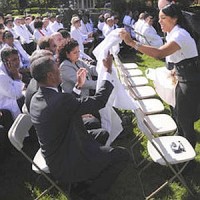 Ed Morrissey at Hot Air wonders why the New York Post was the only major media organization to report this about President Obama's Rose Garden speech to a group of physicians on Monday (what the Post calls White House's Botched 'op'):
The physicians, all invited guests, were told to bring their white lab coats to make sure that TV cameras captured the image.

But some docs apparently forgot, failing to meet the White House dress code by showing up in business suits or dresses.

So the White House rustled up white coats for them and handed them to the suited physicians who had taken seats in the sun-splashed lawn area.
Ed is essentially correct that no-one else reported this, although Fox News did characterize the assembled docs as being "costumed" in white lab coats.  So, why the blackout on "White Coat-gate?"
The short answer?  Because it's not news.
The photo of a White House staffer handing out white lab coats is the kind of thing that a partisan blogger might drool over, but as a news story, it doesn't really make the grade. Absent this report, would people have assumed that the assembled doctors were suited up to perform examinations on the President?  The fact that the coats were for visual effect is obvious.  The fact that the White House had a few extras on hand shows smart preparation.
To the extent that this is stagecraft, news outlets would be just as obliged to report that the President didn't just wander out of the Oval Office and happen upon a podium to speak at, but that the whole thing was staged!
The point of this story, and of Fox's jab, was to make the whole thing seem artificial.  The problem is, these really were doctors who really do support health care reform.  The coats weren't "costumes," and the photo op was not, as Ed says, a "masquerade."
Now, if the White House had clothed 150 ordinary dipshits as fighter pilots, that would have been a story.
Have a tip we should know? tips@mediaite.com