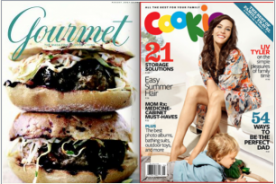 It's hard to ignore reality when it's punching you in the face. At least we have to assume that the approximately 180 Condé Nast employees who got laid off earlier this week when the company decided to fold four magazines feel like they've been punched in the face.
The reality part, in the case of the rest of Condé Nast, of course means the Internet, which the company has woefully and rather spectacularly ignored to its great peril these last ten years. Whether the powers that be have been forced to do a similar reality check remains to be seen, but all signs point to not looking good.
Shortly after CEO Chuck Townsend announced the closures, noting that "in the coming weeks, we hope to announce initiatives to develop digital versions of our brands that will make use of new devices and distribution channels," Mediaite obtained a memo to the digital staff from Condé Nast Digital svp Drew Schutte suggesting the clock was ticking.
In regard to Cookie.com and Gourmet,com, the sites will remain up at least through the end of the year. If you have advertisers booked into 2010 or feel those booked on them now will be interested in a change, please call Christine to discuss.
And then there's this from today's New York Observer:
Both Modern Bride's and Elegant Bride's verticals on Brides.com would be folded into the main site.

As for Cookie, its five daily blogs and online discussion forums (which are virtual ghost towns compared to sites like UrbanBaby.com) will go kaput. CookieMag.com will shut down soon. Condé Nast currently has no plans to create another online home for hip moms, according to Condé Nast Digital sources.

As for a possible online rebirth of Gourmet and other Condé Nast casualties? Many sources told The Observer they simply don't know yet. And some weren't sure if they could stomach a zombified version of Gourmet on the Web
Or course! Shutting down the Cookie.com site is a great idea, seeing as how the mommy blogs are such a minor aspect of the Internet culture. Sort of akin to closing up Domino. Sigh. Parsing the logic of Condé's decisions is a frustrating game, one which we may not have to play much longer considering the pace at which the company is ridding itself of titles.
Have a tip we should know? tips@mediaite.com