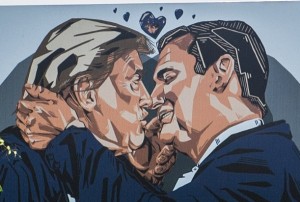 They say a picture is worth a thousand words, but some pictures are also worth a few gallons of throw-up. In the latter category, you can place a new billboard that's been rented near the site of next week's Republican National Convention in Cleveland Ohio. The non-profit group "Plant Peace" has put up a billboard that depicts presumptive Republican presidential nominee Donald Trump making out with Senator Ted Cruz (R-TX), not as a way to protest slash/fic, but to send a deadly-message:
What Donald, Ted and the republican platform either fail to realize, or realize and just don't seem to care about, is that their words and actions toward our LGBT family — especially LGBT children–have meaning and impact. LGBT children hear these messages telling them they are nothing but second class citizens and are left feeling somehow broken or "less than."

We challenge the GOP to think about how many times their children could hear messages like these and not be impacted or question their value and worth? These messages sink our young people into a spiral of depression and directly correlate to queer youth attempting or actually committing suicide. The blood of these children is on the hands of the anti-LGBT platform of the republican party. This is not theory. This is not a dramatization. These are facts. For example, when HB2 passed, the Trans lifeline, a suicide prevention hotline for the transgender community, saw their suicide hotline calls increase 100 percent for transgender children.

When children are dying because of negative messages, it's time to change the message.
As conservative website Redstate points out, this billboard goes up after another RNC billboard advertising the film "God's Not Dead 2" was ostensibly rejected for being "too incendiary," but which probably suffered more from failing to go with the sub-title "Omnipotent Boogaloo" than anything else.
This is an opinion piece. The views expressed in this article are those of just the author.