'You Cheated!': Watch Skip Bayless Blast Louisville for Their Role in the 'Wakeyleaks' Scandal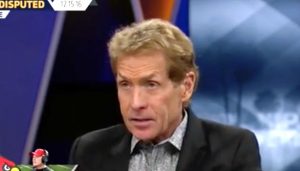 The fallout from the so-called "Wakeyleaks" scandal has just begun — as more information comes to light regarding Tommy Elrod, the Wake Forest football announcer who, according to the school, leaked game prep information to several of Wake Forest's opponents dating back to 2014.
One of those opponents, Louisville, admitted, through a statement by athletic director Tom Jurich, that their offensive coordinator received plays from Elrod.
"Our offensive coordinator Lonnie Galloway and Tommy Elrod have known each other since 2007. Lonnie received a call from Elrod during the week of the Wake Forest game, and some information was shared with him that week.

"Among the communication were a few plays that were sent and then shared with our defensive staff. None of the special plays were run during the course of the game. Our defense regularly prepares for similar formations every week in their normal game plan.

"Any other information that may have been discussed was nothing that our staff had not already seen while studying Wake Forest in their preparations for the game and the material was not given any further attention. I'm disappointed that this issue has brought undue attention to our football staff as we prepare for our upcoming bowl game."
The statement drew the ire of Skip Bayless, who sounded off Thursday morning on Undisputed.
"I found the statement issued by the athletic director Jurich so insulting," Bayless said. "To try to dismiss this as plays that 'Oh, we were going to practice these plays anyway.' How do you know? And then…I'm disappointed that this issue has brought undo tension to our staff for an upcoming bowl game. As if this is a distraction. No, you cheated! You willingly accepted the revenge intel, right? You used it."
Bayless added:
"Just by the law of our land, if you knowingly purchase stolen property, you can be prosecuted."
Watch above, via Fox Sports 1.
[image via screengrab]
–
Follow Joe DePaolo (@joe_depaolo) on Twitter
Have a tip we should know? tips@mediaite.com
Joe DePaolo - Senior Editor