'You've Asked Me Eight Times!': GOP Guest Blows Up When CNN's Blitzer Pushes on Neo-Nazis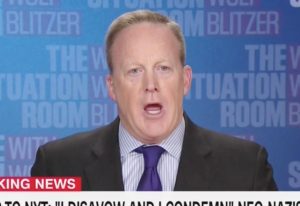 Today, CNN's Wolf Blitzer pushed RNC spokesperson Sean Spicer on whether or not President-elect Donald Trump needs to do a better job of disavowing the neo-Nazis who convened and celebrated his election this weekend. Today, he told writers from the New York Times that he condemns their behavior, but Blitzer wanted to know if that was enough. He questioned whether the President-elect should put out a statement to the entire country.
Spicer repeatedly said that Trump has plenty of other things to worry about, but Blitzer wouldn't let up.
Eventually, the guest snapped, asking what more Trump can do to disavow white nationalists and saying things like, "At some point, you've gotta take his position and move on!"
Once again, Blitzer pushed for more, asking why the neo-Nazis like Trump so much.
"I don't know! That's really not my focus, figuring out why certain groups support him!" he said, moving on to call the repeated questions about white nationalism "preposterous."
Did you think Blitzer was done? He wasn't! He asked why Trump is so quick to tweet about Hamilton or the New York Times when he's mad at them but won't disavow the alt-right until he's asked.
Spicer exploded, "You've asked me eight times, the same question! I've told you what his position is. That's not his focus! His focus is making this country better for all Americans, creating a better country, creating a better education system for all Americans, rebuilding our inner cities. That's what his focus is. So I get that you guys all want to ask the same question over and over again and make him denounce it eight ways to Sunday, but it's not what he wants to talk about!"
He went on to ask if Trump needs to rent a plane and write his disavowal in the sky.
Watch above.
[image: screengrab]
Have a tip we should know? tips@mediaite.com