Zimmerman Prosecutor Went On '40-Minute Rant,' Threatened To Sue Alan Dershowitz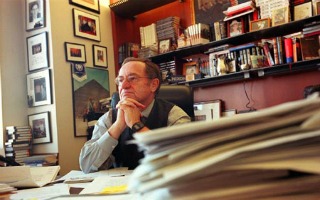 Harvard University law professor Alan Dershowitz revealed in a column on Tuesday that Florida prosecutor Angela Cory threatened to sue him and Harvard for comments he has made about her competency. Dershowitz had been sharply critical of Cory's decision to charge George Zimmerman with 2nd degree murder in connection with the death of Trayvon Martin.

RELATED: Alan Dershowitz Slams Zimmerman Prosecutor: Her Affidavit 'Is A Crime'
In a column posted to NewsMax.com, Dershowitz revealed that Cory called Harvard University Law School and threatened to sue the institution over Dershowitz speaking out about what he considers Cory's politically-motivated decision to charge Zimmerman with 2nd degree murder.
"[Cory] proceeded to engage in a 40-minute rant, during which she threatened to sue Harvard Law School, to try to get me disciplined by the Bar Association and to file charges against me for libel and slander," writes Dershowitz.
The university insisted that Dershowitz had the right to say and write whatever he wanted. But, according to Dershowitz, Corey "persisted in her nonstop whining."
"Corey seems to believe that our criminal justice system is like a poker game in which the prosecution is entitled to show its cards only after the judge has decided to charge the defendant with second degree murder," Dershowitz concluded.
Dershowitz has a history of leveling criticism at Cory for her handling of the Zimmerman case.
On April 25, Dershowitz has said that the affidavit that Cory submitted in the Zimmerman case is "a crime" if she was aware of the injuries that Zimmerman sustained in the scuffle that lead to the shooting death of Martin because those details are entirely omitted from that document.
Dershowitz has said that Cory was appointed as prosecutor in this case "not to do justice" but to "stop race riots."
"She has a terrible reputation in Florida for always over-charging, and she was picked specifically for that," said Dershowitz on Fox News Channel on May 18.
h/t Orlando Sentinel via NewsMax.com
Follow Noah Rothman on Twitter
Have a tip we should know? tips@mediaite.com