Ilhan Omar Responds to Trump Immigration Plan by Calling for US to Abolish ICE, Halt Deportations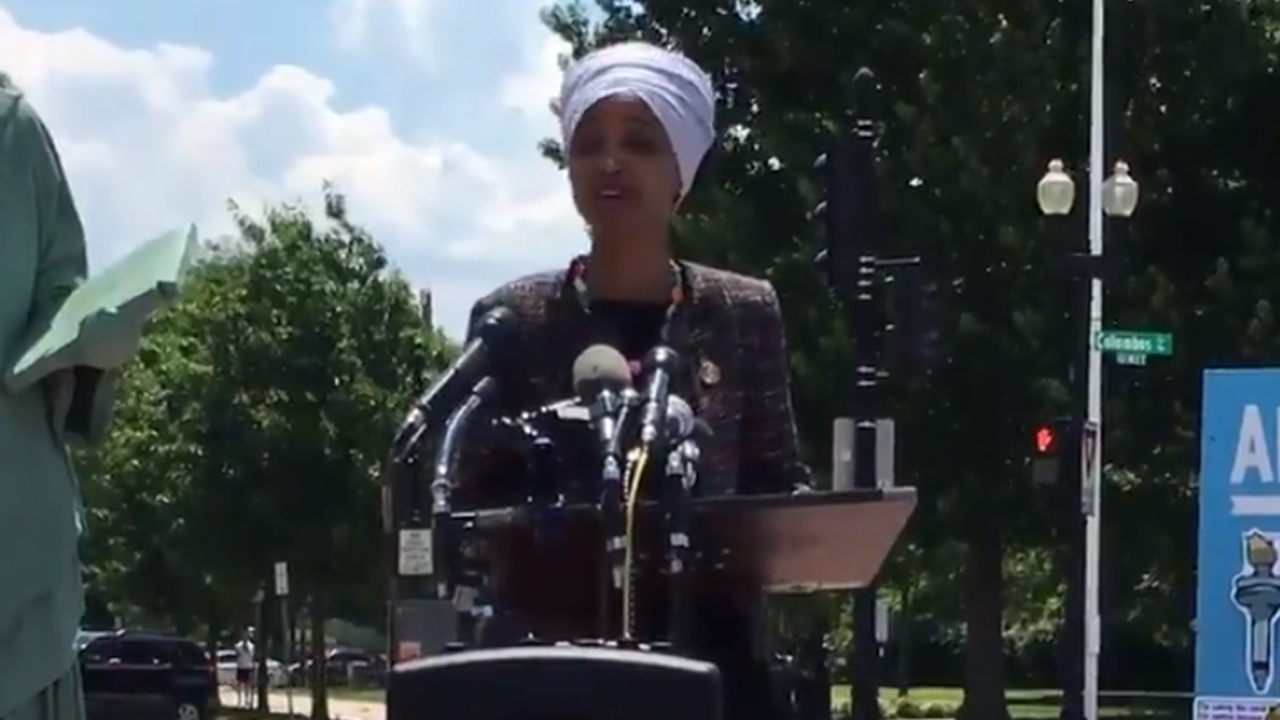 Freshman Rep. Ilhan Omar (D-MN) delivered remarks of her own on Thursday after President Donald Trump offered his new plan for overhauling the legal immigration system in the United States.
Speaking at an outdoor rally at Union station organized by immigration groups, Omar regaled the passerby with a variety of items she thinks should be prioritized rather than the benchmarks laid out in the White House plan, one of which was to abolish ICE.
"Today the president has unveiled an immigration plan that makes no mention of DACA, a program Trump unilaterally ended in late 2017 ,that has been hanging by a thread thanks to court injunctions," she begins in the clip above. "A plan that fails to make sure people with temporary protection status and deferred enforced departure recipients don't have a path to a permanent status or citizenship. A plan that seeks to limit asylum seekers fleeing violence."
"Make no mistake, this plan would have a devastating effect on millions of people around the world who, like me, had plans of coming to this land of opportunity," she said. "Our nation is, and has always been a beacon of hope for the world. We should be welcoming immigrants into our country and providing them a simple and accessible path to becoming documented, not treating them like criminals or dehumanizing them by calling them animals."
The new plan unveiled by the Trump administration on Thursday calls for increasing some legal immigration, based on merit, such as individuals with advanced degrees or in in-demand expertise professions like doctors or researchers. Additionally, according to Trump, the plan would facilitate more "legitimate" asylum claims while stopping "frivolous claims." A point which came also into contention with other Democrat figures on Thursday.
The "animals" line is an apparent reference to when Trump referred to MS-13 gang members as "animals." That was and continues to be incorrectly restated by Democrats as having referred to immigrants in general.
"So what are we asking for?" continued Omar. "What we're asking for is very simple. We need to make sure that we cut, and not put increases on spending on detention facilities. We need to stop using DHS as a slush fund."
"We need to abolish ICE, and end all inhumane deportation and detention programs," she said, with the line that easily got the most applause. "we need to fight back against the criminalization of immigrants and those crossing the border. We need to create a fair and accessible path to legal status and citizenship for all undocumented people in the United States."
Watch the clip above, via Twitter.
Have a tip we should know? tips@mediaite.com