Bill Keller Finds It 'Increasingly Difficult to Defend' NY Times for Drug Testing Writers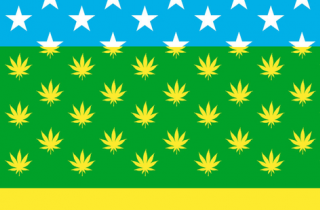 Despite taking an official editorial stance in favor of marijuana legalization, the New York Times is one of a handful of major media organizations that still tests new employees for the drug as a condition of employment. When asked about that discrepancy, former executive editor Bill Keller said it's becoming "increasingly difficult" to defend the company's policy.
While participating in a Reddit AMA on Tuesday afternoon, Keller was approached with the question from Marijuana Majority: "What do you think about the fact that the New York Times drug tests journalists for marijuana prior to letting them byline articles?"
Keller joked in response: "I think it proves that reports of the death of irony are much exaggerated."
"Would you consider signing the petition asking them to match their great new editorial position on the need to stop government discrimination against people who use marijuana with a better internal H.R. policy that doesn't discriminate against people who use marijuana?" the Marijuana Majority asked, referring to their Change.org petition which has, thus far, garnered 4,700 of the desired 5,000 signatures.
-RELATED: The Silent Marijuana Majority: Pat Robertson, Arianna Huffington, Snoop Dogg And… Me
"I make a policy of not second-guessing my former colleagues in public, but I agree (and expect a lot of people at the NYT do, too) that the inconsistency is increasingly difficult to defend," Keller replied.
Full exchange below: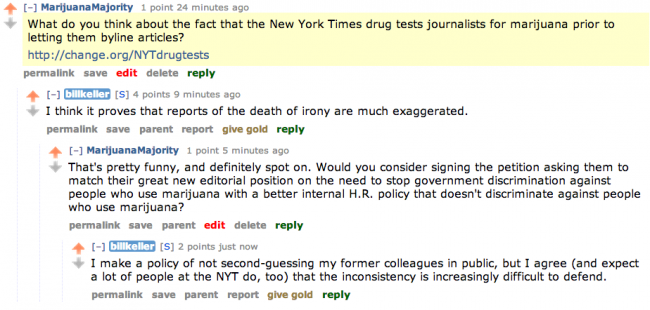 The petition itself scolds the Times for hypocrisy in concerning itself with the marijuana use of employees. "What journalists and other employees do on their own time is their own business," the group writes. "The Times doesn't concern itself with whether their writers have a drink after work. They should institute the same policy for marijuana."
[Image via New York Times]
— —
>> Follow Andrew Kirell (@AndrewKirell) on Twitter
Have a tip we should know? tips@mediaite.com