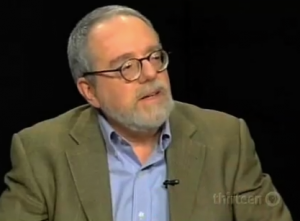 Who: David Denby
What: "Do Movies Have a Future?"
Where: The New York Psychoanalytic Society & Institute
When: September 13, 2011
Thumbs: Up
David Denby began his hour-long ramblings by recommending this summer's Rise of the Planet of the Apes. While this might seem like a strange film recommendation from the renowned New Yorker critic,  he wanted to make clear off the bat that he doesn't dismiss or despise all blockbuster action films with CGI graphics on shallow principle. Sometimes he does like these types of movies. But it's another era of films that Denby really longs for. A major shift has taken place in Hollywood in terms of what gets greenlit, which has translated into "dispossession," Denby said.
Movies must succeed worldwide these days, and to achieve that there have to be big-budget theatrics and memorable over-the-top scenes that will have non-English speakers amazed. That's why, Denby said, it's so hard to sell dialogue-driven films, such as comedies. He said that the younger generation that grew up gobbling up familiar franchises (through remakes and sequels) might not ever develop a sense of – or desire for – traditional elements of film like drama, wit, irony, and more. Drama requires limitations and consequences, he pointed out, and the superheroes in blockbuster movies don't exhibit any.
It's not just the industry that's changing, though. Critics have been let go, and more bloggers are cropping up as sources of reviews. Denby worries that the bond between critic and reader – particularly on the local level – has been lost. Again, rather than denigrate bloggers for contributing to the decline of higher society and thought, Denby defended some of them as being "erudite." He does wonder whether younger people today are interested in reviews, or if they just simply trust the word of their friends before setting out for the theater. Digital technology and marketing have influenced what we put on the screen, too.
The King's Speech winning the Academy Award last year was an "anomaly," Denby said; these smaller, adults-oriented movies are long-shots at repeated success. In previous generations, filmmakers strived to make great films, without stopping to think about what target audience they had in mind for it. Now, Denby said, we only get those during "Holocaust season" toward the end of the year when all of the serious ones come out at once. Well, look at the success of The Help over recent weeks, he noted. Could this be the start of a shift back?
What They Said
"Criticism operates in a business environment that it can't ignore or deny."
– David Denby says it's impossible to separate movies from the studios behind them

"You can't even sum it up because it doesn't mean anything."
– David Denby pokes fun at the plots to some of Hollywood's biggest recent box-office draws

"The liberation of the fantastic in the last 20 years has led to the routinization of the fantastic."
– David Denby has seen enough of the same effects at play time and again

"I haven't cried at the movies in a long time."
– David Denby longs for the days of yore

What We Thought
We predicted that someone would ask Denby during the Q&A to name his favorite movie. We've been to enough of these kinds of events to know what people will want to know. We were also correct that Denby would name several movies and directors in his answer (The Godfather, The Marx Brothers, Preston Sturges.)
Denby demonstrated both his smarts and his sense of humor during his time on stage. At one point, he went into a hilarious riff about what it's like to sit inside an average theater and to deal with all of the sights, smells, and delays that come with the experience.
He said that he believes A.O. Scott is the best reviewer The New York Times has ever had. At first we were taken aback by this suggestion until we realized we couldn't really toss any other names out there as contention.
PANEL RULES!
Some audience behavior seems to repeat itself panel after panel. We'll be updating a running list of "PANEL RULES!" that will help ensure that you are not the dweeb of the Panel Nerds.
Panel Nerds don't like…Overflatterers
An amateur filmmaker in the audience expressed how excited she was to address Denby by thrusting praise at him for his contributions to the film world. We appreciate Denby for who he is and what he's done, but at the same time he's not Scorsese. He's reviewing the films, not making them. Had this woman been an aspiring film reviewer, we would have understood her adoration for the subject on the stage. Instead, her flattery came across as a bit much – and, because of it, we didn't even catch what her actual question was after that.
Have a tip we should know? tips@mediaite.com