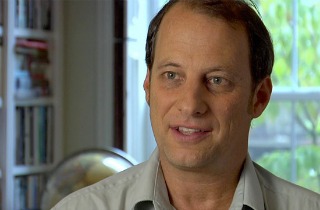 For reporters, interviewing a subject often comes with ground rules, like whether something is on the record, on background or off the record. A no-clothes-allowed rule, though?
The New Yorker's George Packer has a new profile on filmmaker Laura Poitra and her documentary on NSA-leaker Edward Snowden and those are the terms he had to agree to in order for access to one of Snowden's associates.
The Snowden associate was Jacob Appelbaum, a well-known Wikileaks hacker who has helped Snowden publish some of his confidential NSA documents.
Appelbaum has a history of being sought and prosecuted by U.S. authorities, so he hides out now in Berlin, which is where Packer traveled to interview him.
Packer describes the naked encounter, emphasis added:
One of the film's subjects was Poitras's friend Jacob Appelbaum, the young American expert on online anonymity. Appelbaum trained activists in Tunisia, Egypt, and elsewhere, including the U.S., to thwart state surveillance, and, like Poitras, he had moved to Berlin. He said that he was living in "political exile," and saw himself as a dissident who had been persecuted for his views. One afternoon in Berlin, we met at a private club that he, Poitras, and others in their circle belong to. (Appelbaum joked that it had become the group's hangout because of Poitras's "bourgeois tendencies.") He was meticulous about his appearance—he wore hipster glasses, and the top of his right ear was pierced by a metal bar—though his eyes had a wild intensity. He insisted on being interviewed in the club's sauna, where another naked man was lying down. This seemed to be Appelbaum's way of insuring that I wasn't hiding any surveillance devices. We had contrary ideas about privacy: I keep my phone with me during interviews, but I don't like discussing personal matters in front of strangers with my clothes off. After fifteen minutes, the pages of my notebook were soaked in sweat, and I asked to move the venue. We continued talking in an adjacent room, where numerous men wrapped in towels lounged on benches as Appelbaum told me the story of his life as an activist for anonymity.
To summarize: Packer probed Appelbaum about leaks while naked in a German sauna.
[Photo via PBS/screen grab]
— —
>> Follow Eddie Scarry (@eScarry) on Twitter
Have a tip we should know? tips@mediaite.com