DNC Chair Tom Perez Joins Growing Chorus of Dems Calling on Al Franken to Resign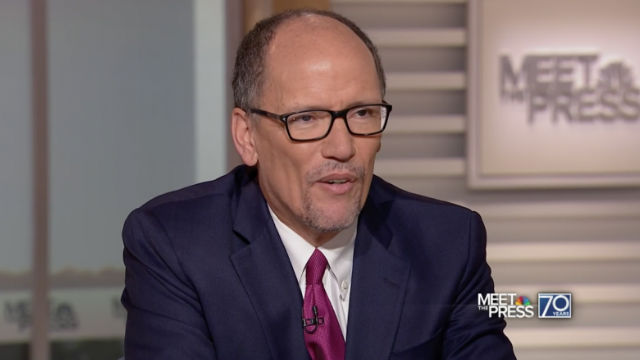 The hits keep on coming, each one further bruising Sen. Al Franken, who has faced repeated calls today from colleagues to resign from his post.
You can add DNC chair Tom Perez to the growing list, which also includes a growing number of Democrats in the Senate.
Perez took to Twitter to make the announcement that he also thinks Franken should step down, due to an ever-increasing list of sexual harassment accusations.
"Sen. Al Franken should step down," he wrote. "Everyone must share the responsibility of building a culture of trust and respect for women in every industry and workplace, and that includes our party."
Franken has announced that he will make a statement tomorrow but, thus far, he has denied calls to resign. The Minnesota Senator, however, has not faced such a level of heat for his alleged misdeeds until today.
The multiple requests for his resignation come as yet another accuser stepped forward today, the seventh overall. The unnamed woman told Politico that Franken attempted to force himself on her.
"He was between me and the door and he was coming at me to kiss me. It was very quick and I think my brain had to work really hard to be like 'Wait, what is happening?' But I knew whatever was happening was not right and I ducked," she said. "I was really startled by it and I just sort of booked it towards the door and he said, 'It's my right as an entertainer.'"
So, yeah, a ton of Democrats have asked for Franken to resign. Interestingly, not so many Republicans have parroted their Democratic colleagues. Could it be because they have been supporting alleged child molester Roy Moore and are led by President Donald Trump, a man who has faced his own multiple allegations of sexual misconduct? Nah, probably not.
[image via screenshot]
—
Follow Lawrence Bonk (@sidescrollers) on Twitter
Have a tip we should know? tips@mediaite.com