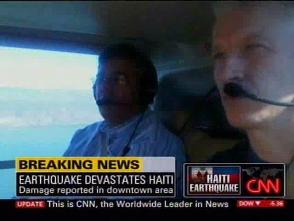 Cable news is focusing on the tremendous devastation caused by the Haiti earthquake with wall-to-wall coverage this afternoon (after a night when some networks covered the story more than others), as correspondents fly to the war zone for on the ground reporting.
Here are a few of the angles to the coverage so far.
• The first anchor on the ground in Haiti was CNN's Anderson Cooper, who arrived around 10amET this morning. The image is of his helicopter ride from Santo Domingo to Port-Au-Prince with Victor Diaz Rua, Dominican Minister of Public Works. Cooper blogs about the trip here.
• TVNewser has a full, and growing, list of correspondents on the way to Haiti. Some notable names: ABC's Kate Snow, FNC's Bill Hemmer, NBC's Brian Williams.
• CBS' Katie Couric is en route now, and she is tweeting updates.
• The first person on Hispaniola was FNC's Wendall Goler, reporting from there last night. He had been in the Dominican Republic on vacation – and was on the ground ready to go when the earthquake struck. Here's the video of one of his first FNC hits:


An emotional interview, one of many so far and many sure to come, on MSNBC earlier today:

Visit msnbc.com for breaking news, world news, and news about the economy
> Update: Added a truly disturbing report about "bodies in the streets" from Anderson Cooper, who is doing some great work today. Only a phoner, but some truly powerful video accompanies it:


—–
» Follow Steve Krakauer on Twitter
Have a tip we should know? tips@mediaite.com