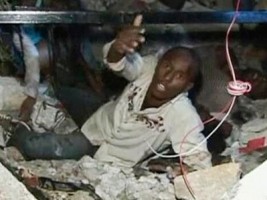 The big story today is the terrible, tragic, mounting catastrophe of the earthquake in Haiti. TV, which was hampered in early efforts to cover the story last night, is now back in full force with devastating images of the carnage — shaky video of rubble everywhere, still photos of bleeding victims in the streets — shots that again and again remind that Haiti has been hammered in an almost unimaginable way. Comparisons have been made to Hurricane Katrina and the asian Tsunami. "Worse than a war zone," is one soundbite being played again and again on MSNBC; "unimaginable catastrophe" has come up as well.
It's the kind of suffering that makes you want to DO something — and that, as always in recent times, is felt most immediately on Twitter, where "Help Haiti" and #HelpHaiti and #Haiti have been top trenders at various times over the past 16 or so hours. Donating has been made ridiculously easy with varoius text/SMS options: Last night, Wyclef Jean, who was born in Haiti and had established the non-profit Yele.org to create scholarships for Haiti's youth, sent out the appeal on Twitter (@wyclef) asking people to text donations to Yele (text 501501 with the word "YELE" to send $5), and he has been working to mobilize resources to aid his homeland (he's reportedly en route).
Another text option: text to 90999 with the word "HAITI" to donate $10 to the Red Cross. This one has the White House stamp of approval: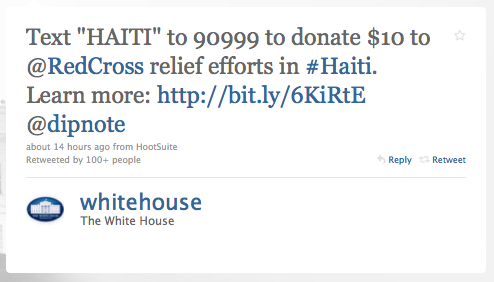 But it's not only Twitter that is fired up about Haiti — it's downright heartening to see some of the searches trending on Google Zeitgeist (my 2010 new favorite) — 11 of 20 "Hot Searches" are Haiti-related, along the lines of "volunteer in haiti" and "haiti relief organizations" and "yele haiti foundation" and "text haiti to 90999." That's a lot of people giving a damn right there. (There's also "Pat Robertson Haiti," because people of decency and good sense know that he's a deranged crackpot).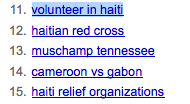 Meanwhile, on television, I can't recall having ever heard so many guests and anchors name-checking charities and aid organizations (recommended via MSNBC: Doctors Without Borders, Red Cross, Yele and a bunch of others), plus hosting pages with donation information (last night at MSNBC it was at rachel.msnbc.com because Rachel Maddow was the one leading that coverage, once the schedule allowed it; now it's mainstream at the site. Last night though clicking on a Haiti headline brought you to the Maddow page).
Will it be enough? To save the people there now, trapped under buildings collapsed into rubble — sadly, there are no reports as optimistic as that. The hospital collapsed. Schools have trapped teachers and children inside, those who survived. An aid worker is quoted as saying "It's the most horrific thing I've ever seen." So for now, they are racing against time amongst unsteady ruins, oppressive heat and a still-shaking earth. But going forward, they will need help to recover and rebuild, and in 2010, it's never been easier for the rest of the world to show that they care, and to do something about it.

Lists of 'How to Help Haiti' from various news orgs:
Haiti Earthquake: How You Can Help the Victims [ABC]
Haiti earthquake: How to help [MSNBC]
How To Help Haiti Earthquake Victims [MyFoxNY]
Haiti Disaster Relief: How to Contribute [NYT – The Lede]
Connecting to People Affected by the Quake [NYT – The Lede]
And outside the U.S., too:
Countries, aid agencies seeking to help Haiti [Canada.com]
BUT BE WARNED:
As World Looks to Help Haiti, Scammers Sit Poised [Fox]
The worst place in Hell is reserved for these people.
Have a tip we should know? [email protected]