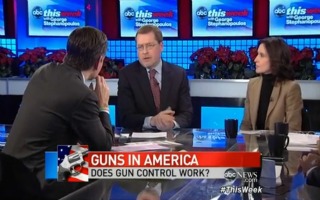 In an impassioned round table discussion on Sunday's This Week, panelists erupted over NRA Vice President Wayne LaPierre's press conference Friday afternoon, with most leaning towards increased gun legislation. NRA Board Member Grover Norquist strongly disagreed and a fervent back and forth ensued about the correct solution to gun violence in America.
Republican political consultant Matthew Dowd slammed LaPierre, saying, "The leadership of the NRA is a myth." He went on to blast LaPierre for his suggestion to have armed guards at schools, saying, "I would not have guessed that anybody who had diminished credibility could get up and diminish their credibility more than what Wayne Lapierre."
"Average folks," Dowd said, know that something has to be done about gun violence. Dowd noted that he was a Texan and owned five guns himself but was part of the team that helped pass an assault weapons ban. He expressed his surprise at the "dogmatic" nature of LaPierre's position, saying,
"I actually expected Wayne Lapierre to stand up and say exactly what he said and then say, 'Oh, by the way, I have stuck to too many dogmatic positions for too long and it's time to ban the assault rifles.'"
Katrina Vanden Heuvel of The Nation agreed. "The NRA has four million members, it is essentially a lobby for gun manufacturers, not for its members." The majority of Americans, Vanden Heuvel said, don't agree with the NRA's positions on things such as background checks and assault rifle bans.
Norquist vehemently disagreed and shot back, "The National Rifle Association represents a great number of Americans." He also suggested we "calm down" and not politicize tragedies like the Newtown shooting. He then pushed for increasing guns as a means to combat gun violence.
Other panelists, including Newark Mayor Cory Booker continued to argue otherwise. "Thirty-four people are murdered every single day," Booker said. He also noted that most Americans agree something needs to be done. "I'm tired of the political debates," he said. "They're not necessary."
Watch the full clip below, via ABC:

—
>>
Follow Anjali Sareen (@AnjaliSareen) On Twitter
Have a tip we should know? tips@mediaite.com