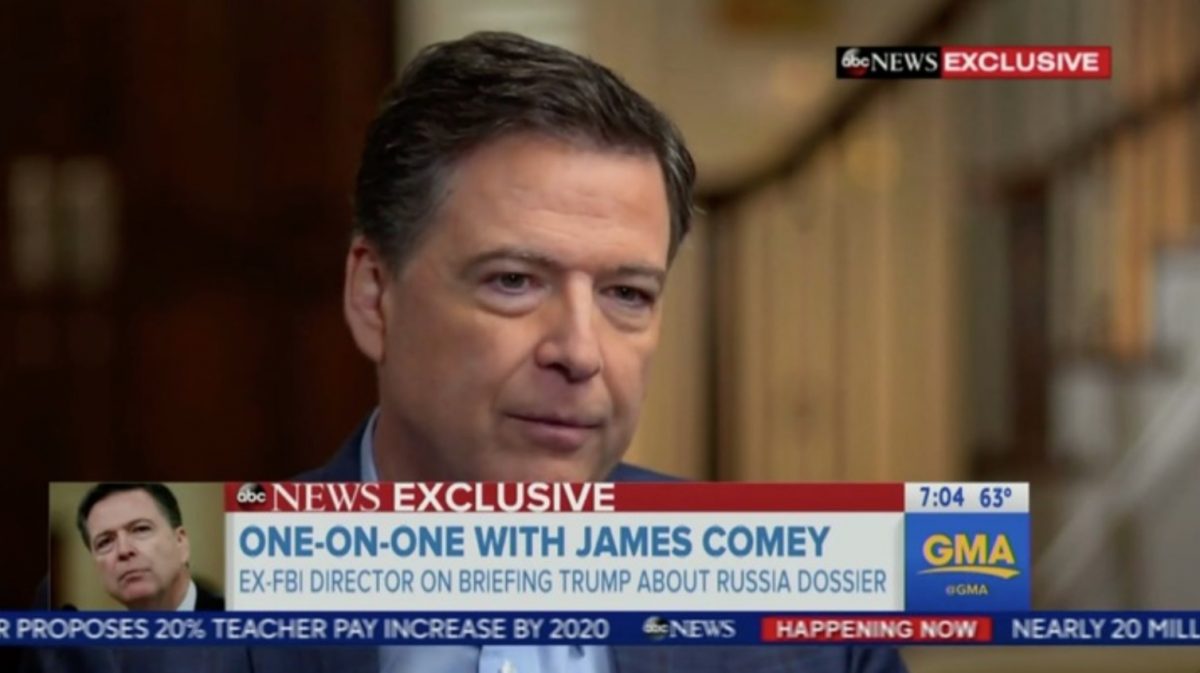 The political world turned its weary eyes to ABC News Sunday night, as James Comey sat down with George Stephanopoulos for a tell-all interview about his experience with — and firing by — President Donald Trump.
Comey, who is on a media tour ahead of the release of his memoirs, dished on a number of topics from his controversial reopening of the Clinton investigation to the possibility that the "pee tape" exists.
Here are the highlights:
Comey dishes on his first meeting with Trump to tell the president of the dossier claiming he was caught on camera peeing on Russian prostitutes
"He looked slightly orange up close with small white half-moons under his eyes, which I assume are from tanning goggles."
Comey compares Trump to the Gambino crime family asking for loyalty
"How strange is it for you to sit here and compare the president to a mob boss?" Stephanopoulos asked.
"Very strange," Comey replied. "And I don't do it lightly."
Trump gets "defensive" over his alleged consorting with hookers, Comey declines to confirm or deny the existence of the pee tape
"Do I look like a guy who needs hookers?" Trump said, according to Comey.
"I honestly never thought these words would come out of my mouth, but I don't know whether the current President of the United States was with prostitutes peeing on each other in Moscow in 2013," Comey added. "It's possible, but I don't know."
Comey says after he sent letter announcing the re-opening of Clinton investigation, "it sucked," and he was "vaguely sick to my stomach."
"It sucked," Comey explained. "I walked around vaguely sick to my stomach, feeling beaten down. I felt like I was totally alone, that everybody hated me. And that there wasn't a way out because it really was the right thing to do."
Trump invited Comey to dinner at the White House and bragged about his inauguration crowd size
"[Trump said] his inauguration crowd was bigger than that at Barack Obama's first inauguration. That's just not true. That's not a perspective, that's not a view, that's just a lie. And yet he would say it."
Comey explains meeting in which Trump asked if the criminal investigation into former national security adviser Michael Flynn could be dropped
"Was President Trump obstructing justice?" Stephanopoulos asked.
"Possibly," Comey said. "I mean, it's certainly some evidence of obstruction of justice."
Comey says he drank wine out of a coffee cup after finding out about his firing on the news
"I drank red wine from a paper coffee cup and just looked out at the lights of the country I love so much as we flew home."
Comey says "it's possible" that the Russians have compromised Trump
"Do you think the Russians have something on Donald Trump?" Stephanopoulos asked.
"I think it's possible," Comey replied. "I don't know. These are more words I never thought I'd utter about a President of the United States, but it's possible.
"That's stunning. You can't say for certain that the President of the United States is not compromised by the Russians?" Stephanopoulos pressed.
"It is stunning and I wish I wasn't saying it, but it's the truth," Comey replied.
[image via screengrab]
—
Follow Aidan McLaughlin (@aidnmclaughlin) on Twitter</a
Have a tip we should know? tips@mediaite.com
Aidan McLaughlin - Editor in Chief