'Are You High?!' Anderson Cooper Mocks GOP Strategist Who Said Ted Cruz Is 'Having Bunny Sex'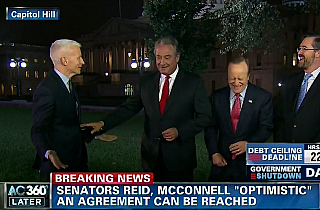 During late-night Capitol lawn coverage of the debt ceiling, CNN anchor Anderson Cooper mocked GOP strategist Alex Castellanos for being "high" after the commentator likened Ted Cruz's shutdown strategy to the rabbit mating rituals.
Castellanos agreed with his Democratic counterpart Paul Begala that Cruz is behaving in a short-sighted manner by shutting down the government to expand the conservative base.
As such, the GOP strategist recalled a bizarre analogy. "A friend explained to me today, finally, what Ted Cruz is doing," he said. "And I finally understand: He's having bunny sex."
While Begala let out a confused chuckle, Cooper looked down at his watch and joked: "This is the late-night edition of 360."
But Castellanos was persistent. And his attempt to explain the bunny sex analogy resulted in this humorous exchange:
CASTELLANOS: In nature, there are boom-and-bust cycles. The snowshoe hare, every ten years, multiplies sixfold.

COOPER: Are you high?

CASTELLANOS: I'm high. Totally high. Let me explain. I wish I was. The snowshoe hare — I thought it's a marvelous explanation — every ten years, multiplies sixfold. Bunnies like sex apparently. But the boom produces a bust. They press their food supply, they invite predators. Right now, Ted Cruz, what's he's doing, feels good. He's growing his supporters. He's leading the Republican Party, I think, into a bust.

COOPER: I think you're digging a ditch, Alex.
A few minutes later, the segment ended with Cooper ribbing Castellanos over what had just happened:
COOPER: Gentlemen, thank you. Alex, I'm still trying to figure out what the bunny sex was about.

CASTELLANOS: We'll have a man-to-man talk later.

COOPER: I definitely did not learn that in my class.
Watch below, via CNN:
[h/t
RawStory
]
— —
>> Follow Andrew Kirell (@AndrewKirell) on Twitter
Have a tip we should know? tips@mediaite.com