Atlanta Mayor Lashes Out at CNN Anchor in Combative Interview over Poor Storm Prep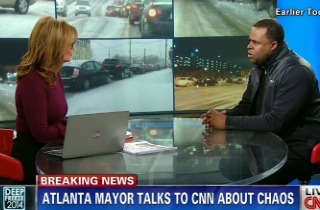 A rare snowstorm impacting Atlanta, Georgia, on Tuesday caused massive headaches for commuters, snarled traffic on highways for nearly 20 hours, and spawned images of commuters sleeping in drugs stores and supermarkets. The city of Atlanta's apparent lack of preparedness has resulted in criticism of Mayor Kasim Reed. On Wednesday, Reed joined CNN anchor Carol Costello for a hostile interview in which the mayor repeatedly insisted that "independent" entities were responsible for the lack of preparedness and the outrage aimed at him was misdirected.

"You know how angry people are at you," Costello asked.
"I don't feel that people angry at me," Reed replied.
"There are plenty of people who say the school children should never have been placed in that position," Costello shot back, "that schools should have been closed before the weather hit."
"Let me say this: if you're being fair, you would point out that the Atlanta public school system makes the call on when the system is closed," Reed replied.
"You ought to be fair with the interview," he continued. "The Atlanta public school system calls and the school systems independently call when they close."
RELATED: De Blasio Takes on Critics of Snow Removal Efforts: 'No One Was Treated Differently'
Reed said he would have preferred to close the schools, but the city is deserving of praise for the lack of traffic-related deaths.
"I've heard this from public officials before," Costello replied. "We didn't have any fatalities, but that was just by the grace of God."
"No, it's not by the grace of God," Reed countered.
"People got out of their cars in icy situations," Costello insisted.
"That's easy to say from your anchor seat," Reed said dismissively.
When Costello insisted that she was among the thousands stuck in weather-related traffic, Reed told her to pull up the cameras outside of CNN's Atlanta headquarters. "It looks pretty good outside of CNN," he said.
Watch the clip below via CNN:
[Photo via screen grab]
— —
> >Follow Noah Rothman (@NoahCRothman) on Twitter
Have a tip we should know? tips@mediaite.com