Bill O'Reilly And Geraldo Rivera Clash Over Whether United States Should Cut Off Tourism To Egypt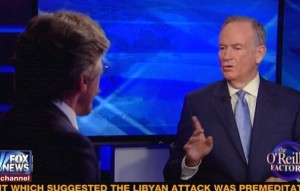 On his show tonight, Bill O'Reilly argued that in order to send a strong message to the Egyptian government in the wake of the attack on the U.S. embassy in Cairo this week, all Americans should stop giving their tourism dollars to the government. Geraldo Rivera told O'Reilly that such a boycott may send a message, but it would be punishing Egypt "from the bottom up."
RELATED: Geraldo And Eric Bolling Battle Over Violent Threat Posed By The Muslim Brotherhood
O'Reilly came out strongly against any U.S. citizen traveling to Egypt for the foreseeable future, though he did admit that central Cairo is a wonderful tourist location. However, post-Mubarak, O'Reilly argued that the country is much more chaotic, and said for the moment Americans should stay out of Egypt. Rivera brought up the number of U.S. students studying abroad in Egypt, and recommended they stay inside and have people make sure they are safe.
Rivera then turned to a larger criticism of the Egyptian government, namely that they violated an implicit understanding between nations that "our sovereign territory in your country is safe, that you will protect it," even going so far as to "incite some of that violence."
O'Reilly said that beyond cutting off tourism to Egypt for a while, United States airlines should stop flying to Egypt for the time being. Rivera called O'Reilly's proposal "intense," and argued that if people cut off tourism ties to Egypt, the nation would be punished "from the bottom up." O'Reilly said that he feels "sorry for the urchins" living in the streets of Egypt, but said cutting off tourism would be sending a powerful message to the Muslim Brotherhood.
Watch the video below, courtesy of Fox News:
—–
Follow Josh Feldman on Twitter: @feldmaniac
Have a tip we should know? tips@mediaite.com
Josh Feldman - Senior Editor