Donald Trump Finally Admits That Obama 'Was Born in the United States. Period.'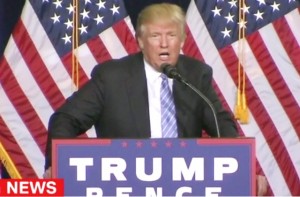 More than five years after Donald Trump took a fringe conspiracy theory and made it hip and mainstream, today he finally admitted that "President Barack Obama was born in the United States. Period."
The move comes after increased pressure on the former real estate mogul to admit that after all this time, President Obama is in fact a natural born citizen. It also came at the end of a lengthy bait-and-switch with the mainstream media; all of the major cable news network carried the press conference waiting for the "birther" element. However, the presser was focused instead on military endorsements from Medal of Honor recipients, many of whom spoke at length about their support for Trump's candidacy.
Then, as dramatically as ever and with the dexterity of ultimate showmanship, Trump devoted just the final seconds to mentioning the very topic that everyone was waiting for.
Yesterday, the Trump campaign itself released a statement acknowledging that Trump believes in Obama's Hawaii birth; senior communications advisor Jason Miller said yesterday, "Having successfully obtained President Obama's birth certificate when others could not, Mr. Trump believes that President Obama was born in the United States."
As recently as two days ago however, the Republican party nominee refused to outright admit that he believed President Obama was born in the United States. He told the Washington Post Wednesday night, "I'll answer that question at the right time. I just don't want to answer it yet."
In 2011 at the beginning of the so-called "birther movement," Donald Trump claimed to have sent a team of investigators to Hawaii to perhaps uncover what he described as, "one of the greatest cons in the history of politics and beyond."
"I have people that have been studying it and they cannot believe what they're finding," he said at the time.
In a leaked personal email that was released earlier this week, former Secretary of State Colin Powell asserted definitively, "Yup, the whole birther movement was racist."
Have a tip we should know? tips@mediaite.com