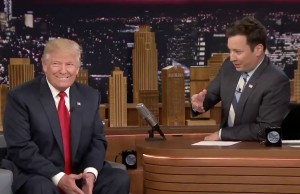 Last night, a very airy interview between Donald Trump and Jimmy Fallon aired. Fallon mussed Trump's hair. They had a little chat. It had the lighthearted feel of a regular celebrity interview.
It didn't go over well with what looks like a pretty hefty amount of people. The headlines this morning have ranged from hesitant statements on Fallon's role as enabler to outright insults of his "softball" segment.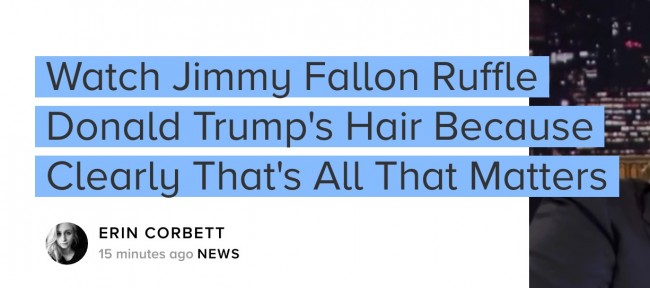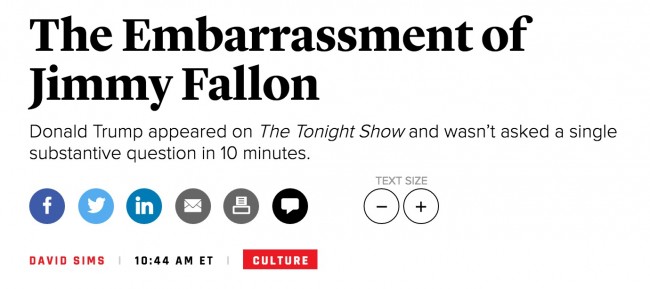 If people whose jobs require them to be critics were unkind, armchair pundits were downright nasty. "Jimmy Fallon" has been trending on Twitter for hours as he's been name-checked repeatedly by people who believe he dropped the ball.
"Wow, Donald Trump went on Jimmy Fallon, acted cute, & let Jimmy mess up his hair! I guess that erases the years of Trump's hate speech!"

— Eric Wolfson (@EricWolfson) September 16, 2016
Jimmy Fallon is an exaggerated example of what the MSM is doing. Humanizing a monster. The most dangerous thing you could do.

— Kalliope Amorphous (@KAmorphous) September 16, 2016
When you are neutral in the presence of racism and bigotry, you are part of the problem Jimmy Fallon

— R Joseph (@rjoseph7777) September 16, 2016
Was Jimmy Fallon supposed to do a hard-hitting interview? Of course not. Was he supposed to shower a racist with love? No. Not that, either.

— Aura Bogado (@aurabogado) September 16, 2016
I don't fault Jimmy Fallon for not being a journalist. I do fault him for his willingness to serve as hell's court jester.

— Mark Harris (@MarkHarrisNYC) September 16, 2016
Jimmy Fallon does a lot of great impressions but his Sean Hannity tonight was one of his best.

— stuart stevens (@stuartpstevens) September 16, 2016
In his defense, Jimmy Fallon just pulled in a 35 share among white supremacists 18-49.

— Ken Jennings (@KenJennings) September 16, 2016
Jimmy Fallon blew it tonight. Late night comedians used be the court jesters of culture. Humanizing a xenophobe is not okay. #FallonTonight

— Ateeya Manzoor (@Ateeya) September 16, 2016
Jimmy Fallon inviting Trump on is part of the normalizing of hate. Should be ashamed of himself. Lost all respect from me.

— Mike Signorile (@MSignorile) September 16, 2016
Jimmy Fallon's brand is "Everything is Awesome!" which is great until "everything" turns out to include the rise of xenophobic fascism

— Arthur Chu (@arthur_affect) September 16, 2016
Awww Jimmy Fallon ruffled Trump's hair and then goofed around with him for ten minutes. What a funny, adorable response to fascism!

— Birdy (@palebirdy) September 16, 2016
Honestly, I wasnt expecting much better from Jimmy Fallon, but I am very happy everyone else hates him as much as I do now.

— Jasper Apollonia (@JasperGoldenGod) September 16, 2016
Another day, another batch of fury. 53 days to go.
[image via screengrab]
Have a tip we should know? tips@mediaite.com