CNN Head Thought Don Lemon Was Being an 'Idiot' With MH370 Black Hole Question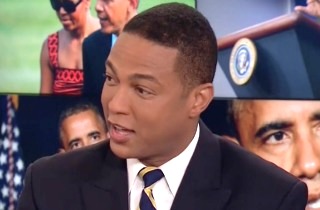 CNN's Don Lemon was memorably mocked back in March for throwing it out there on live national television that maybe missing Malaysian Airlines Flight 370 was swallowed up by a black hole. CNN Worldwide president Jeff Zucker thought it was stupid, too.
A New York magazine profile on Zucker examines his approach to saturating CNN viewers with wall-to-wall coverage of sensational events and how Lemon's maybe got too caught up in this case:
The strategy was most vividly on display during CNN's breathless—and seemingly endless — coverage of the disappearance of Malaysian Airlines Flight 370, lowlighted by anchor Don Lemon speculating on camera that the missing plane might have flown into a black hole. (Zucker was frustrated by the gaffe: "Don, don't be an idiot.")
Around the same time of the black hole theory, Lemon had also mused allowed whether the "supernatural" might explain the missing plane.
Revisit the black hole moment via CNN;
[Photo via CNN/screen grab]
— —
>> Follow Eddie Scarry (@eScarry) on Twitter
Have a tip we should know? tips@mediaite.com