CNN's Blitzer: Obama Should 'Accept GOP Advice, Delay Obamacare' Over Glitchy Websites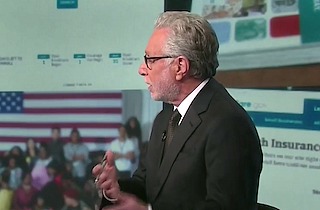 (UPDATE BELOW) CNN's Wolf Blitzer said at the end of a Situation Room segment on Wednesday afternoon that the Obama administration should consider a one-year delay on the implementation of the Affordable Care Act's individual mandate in order to get the health care exchange websites functioning properly.
"A week into it, still a lot of glitches," CNN correspondent Brian Todd reported to Blitzer. "People not able to create accounts, just to get information to possibly enroll, much less not being able to enroll in the plan."
"We're also hearing now that the administration was warned about these potential problems months in advance," Todd continued. "We spoke to a health care consultant who has clients who are insurers. He says his insurers, who dealt with the administration in the months ahead of time, had contentious meetings with people at [Health and Human Services] and other health care officials who were in charge of this, warning them, 'This isn't working, it's not going to be smooth, don't do it.' He says those warnings were ignored, they went full speed ahead, and said we'll work these problems out. There's been a bit of pushback from the White House, we'll hope to get more later from them."
"If they had three years to get this ready—if they weren't fully ready, they should accept the advice that a lot of Republicans are giving them, delay it another year, get it ready, and make sure it works," Blitzer said. "There are government health care-related websites that work great. Socialsecurity.gov, a whole bunch of others. They know how to do it. But if they didn't get it ready on time, then maybe fix the problem, make sure people don't have to worry about it."
Watch the full clip below, via CNN:
UPDATE 7:44 P.M.: Blitzer tweeted out a clarification hours later making it clear he was not taking any specific position.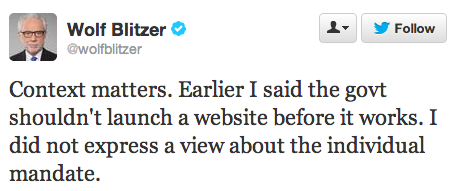 [Image via screengrab]
——
>> Follow Evan McMurry (@evanmcmurry) on Twitter
Have a tip we should know? tips@mediaite.com